TeamSoloMid and Immortals tied as 2017's Summer Split comes to a close
Updated: 11 Aug 2017 8:12 am
TSM and Immortals are the favorites going into the finals. My Photoshop skills are not.
Which team will take the finals?
There have been few surprises during 2017 in the NA LCS. TSM had a little bit of a slump after winning at Rift Rivals, but they've picked back up and ended the Summer Split 14-4. Immortals has had a similar streak, also ending 14-4 after performing poorly during the Spring Split. During the Summer Split, TSM and IMT faced off twice, and both took a win. The current standings in the split are as shown: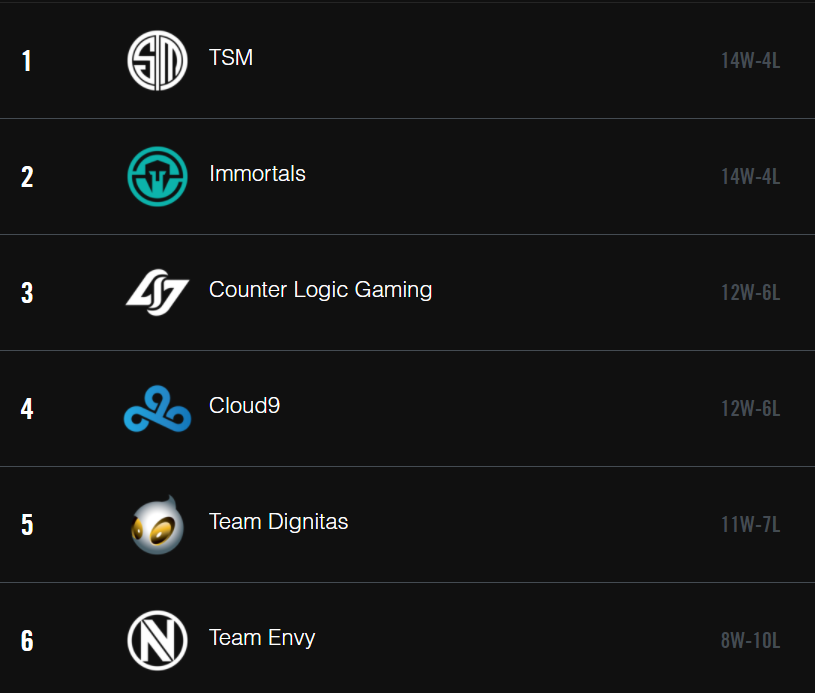 The current standings for the 2017 NA LCS Summer Split.
There is little evidence to support which team will win the split. Few people will tell you that Dignitas or Envy will take the final, even though both teams have been garnering rising talents such as DIG's Altec. Dignitas saw a roster revamp in September of 2016, where their organization and the organization they sold their Challenger spot to both were purchased by the Philadelphia 76ers. Since the newly reworked team has only played in two splits so far, their true potential is mostly unknown.
Counter Logic Gaming and Cloud 9 have many fans of their own, mostly due to the popular streamers that represent their teams. Notable examples are C9's Sneaky and CLG's Aphromoo. However, CLG and C9 both have a long history of losses against TSM, so things don't look hopeful there. Assuming the aforementioned teams win against their opponents, the semifinals could determine the winner. It all lies in the hands of the teams themselves.