LoL Best Jayce Skins That Look Freakin' Awesome (All Jayce Skins Ranked Worst To Best)
Updated: 18 Sep 2022 1:39 am
Jayce The Defender of Tomorrow.
Cheers for you, rare creature that decides to play Jayce. Double cheers if you're here looking to invest in him.
Today's the turn of our brilliant boy. The prodigy. The inventor. The honorable Jayce.
Born in Piltover, he has dedicated his life to defend his city in the name of progress. The living face of the future won the heart of his people, he's considered a hero by Piltover civilians.
We have seen him shine in Arcane, the TV series, as one of the main characters along with Viktor. Not that popular in LoL, he's actually an amazing champion with a great set of abilities. It's pretty easy to fall in love with him once you've tried him on the summoner's rift. It's always great to have a good Jayce in the team. He also received a buff recently so this might be the perfect chance for you to play with him.
Here I'll be listing his best skins and we'll see if I can convince you to give it a try.  
8. Brighthammer Jayce
Skin spotlight: 
This one was released on November the 17th of 2016. No exciting new features in this one, it keeps the same visual and sound effects as the base skin. It only changes the appearance of the champion.
It resembles a science paladin, this is why it looks so bright and enlighted. The details are quite nice and well done, the problem is that the hammer is too big and it feels unstable while you're playing it. Also, sound effects can get annoying sometimes so I wouldn't recommend using this one. I prefer the base skin over this one.
It is the cheapest skin of course, but even for that price it's not really worth it.
How to get Brighthammer Jayce: it's available in the game store for 750 RP.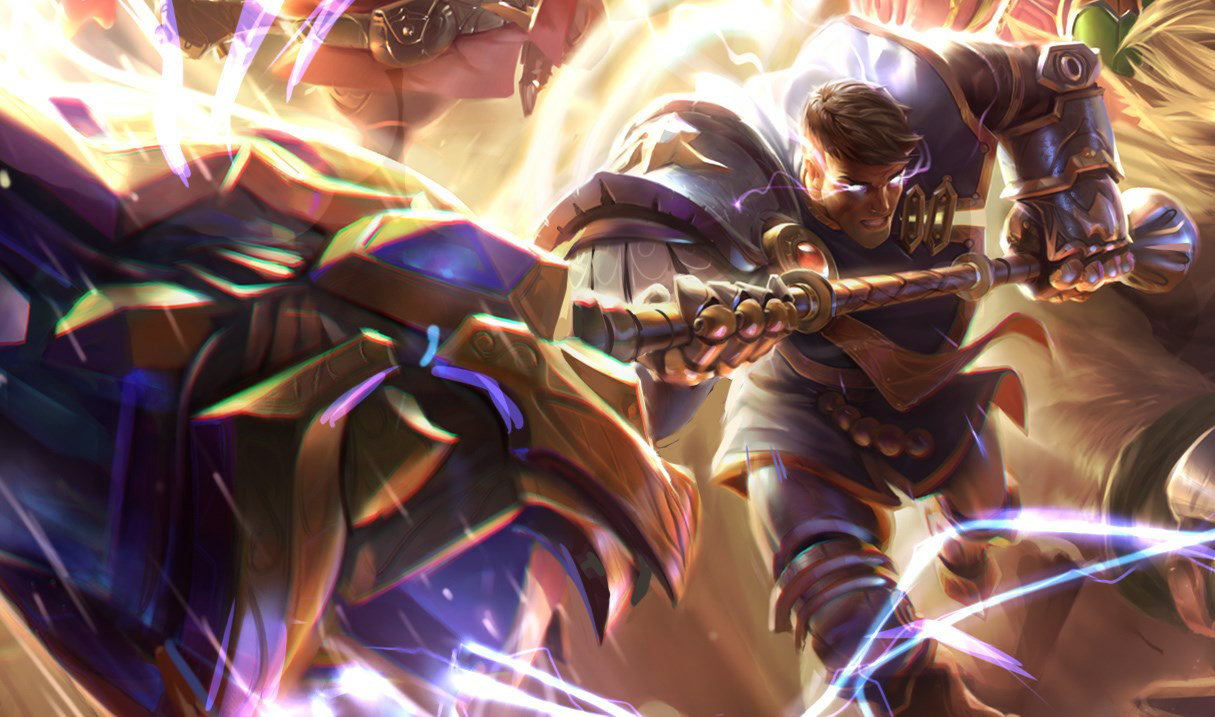 He looks all mighty in the splash art.
7. Full Metal Jayce
Skin spotlight: 
Released in July of 2012, it belongs to the heavy metal universe (along with full metal Rammus, full machine Viktor, full metal Pantheon, boom boom Blitzcrank and Nunu and Willump bot). In this universe, Jayce defeated Pantheon and claimed the title of the Full Metal Fighting League.
I love this skin, it's pretty unique. It was his very first skin and to be that old is not bad at all. Inspired by the Iron Man concept, he's dressed in full armor with the usual blue and golden tones.
The number of details in this skin is quite impressive. They added energy lines particles for the visual effects, and the voice effect leaves us with a robotic cool Jayce. The splash art shows us an imponent Jayce crashing his hammer against the floor.
The concept suits him nicely; the only reason why I choose this skin as number two is because of the price. It's not equivalent to what it offers. Although it has a lot of cool things, it doesn't change the recall and the spells are almost the same as the base skin, which happened a lot with this champion.
How to get Full Metal Jayce: it's available in the game client's store for 1350 RP.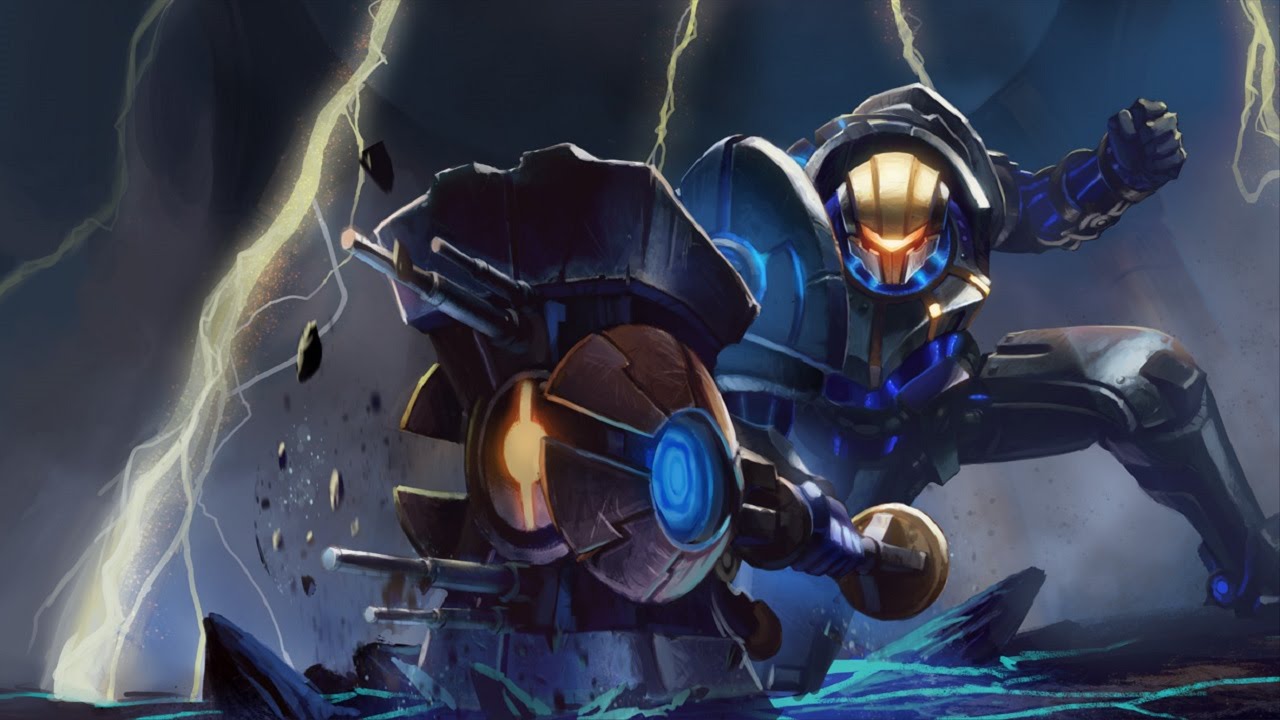 MASSIVE!
6. Forsaken Jayce
Skin spotlight: 
Inspired by Star Wars, it was released in May of 2015. In this skin, we have a dark sinister version of Jayce. A total counterface.
Using a black and red color palette, it stands out from the other skins because we're used to seeing Jayce as the good boy, just like Garen.
If you like Star Wars and dark concepts you'll love this one. It changes recall, visual and sound effects.
The recall of this skin is one of my favorites, it looks awesome. The issue with this one is that the weapons feel plastic. That hammer sounds like a laser, and that takes away part of the immersive feeling, a hammer should sound like a hammer. The visual appearance of the hammer and the cannon gives that same plastic feeling. It doesn't honor the obscure look of the skin.
Overall is not bad, it gives us a darker opposite perspective of the original Jayce. The ability effects are decent. You do feel powerful wearing this one and it's comfortable to use in matters of auto-attack.
How to get Forsaken Jayce: it's available in the game client's store for 1350 RP.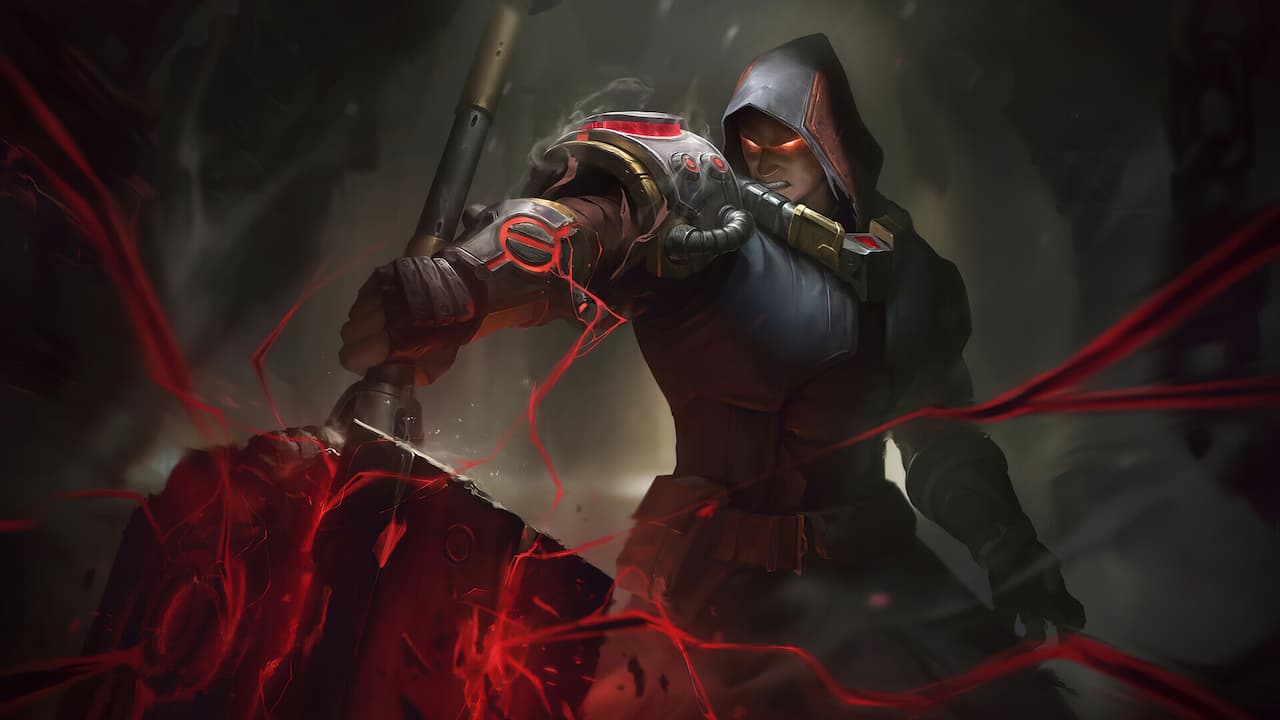 A fine artwork that could work as the official splash art.
5. Debonair Jayce
Skin spotlight: 
A classy skin released on February 14th of 2013.
I'm not a big fan of this skin concept, but Jayce makes it look worth it. Such a gentleman in an elegant white tuxedo. He fits so very well in this concept, looking like the educated, cultured, well-read man he is. It's the most comfortable skin to use. It has a nice design that somehow makes the gameplay feel natural and smooth, especially for the mercury cannon. The recall is the best part, you wish to be that hammer don't you?
The animations, visual and sound effects are pretty much the same as the base skin. It doesn't change that much but it's still a great skin.
How to get Debonair Jayce: it's available in the game client's store for 975 RP.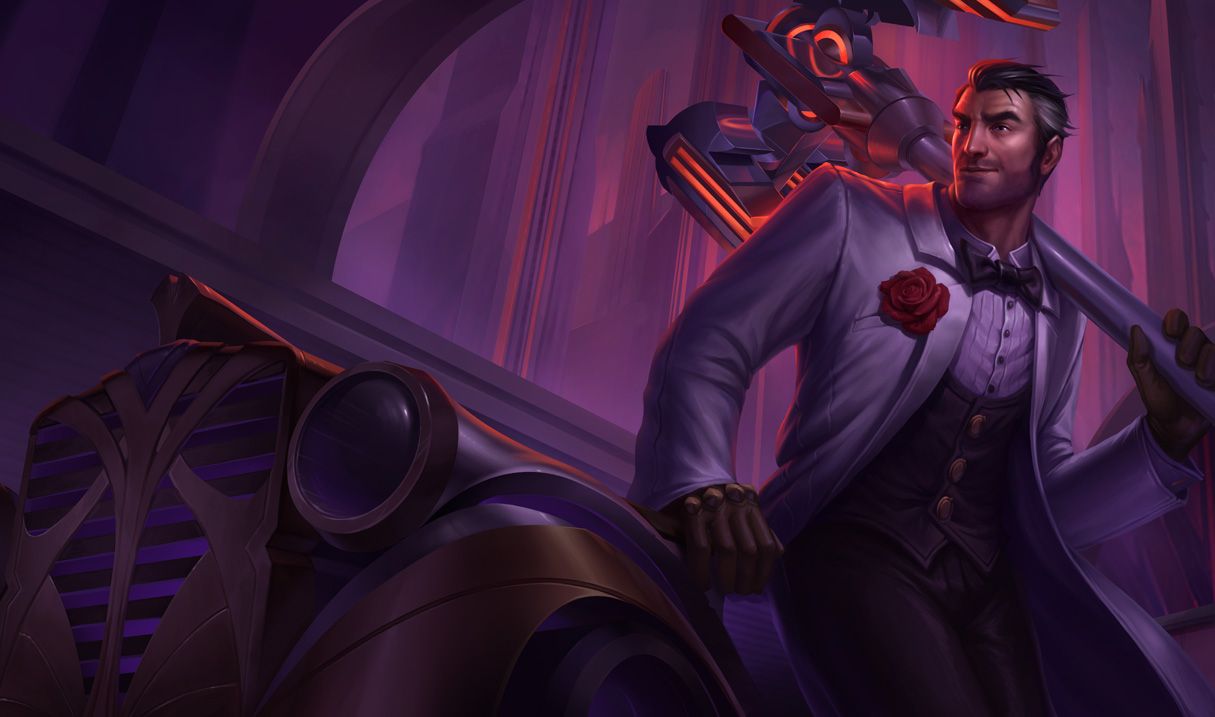 What a man!
4. Arcane Jayce
Skin spotlight: 
Released in November of 2021, it is part of the Arcane line skins. It was released as a celebration for the Arcane TV series in which Jayce has a very important rule.
Not many changes on this one, but it feels like an improvement from the original Jayce. Overall feels much smoother and cozy. It was for free until December of 2021, it was given to every LoL player as a gift. Nothing to complain about this skin, for a free one it feels amazing. He looks very elegant in his white and golden clothes. Besides we get a young-adult version of him so it feels quite refreshing.
How to get Arcane Jayce: it's now available in the game's store for 975 RP.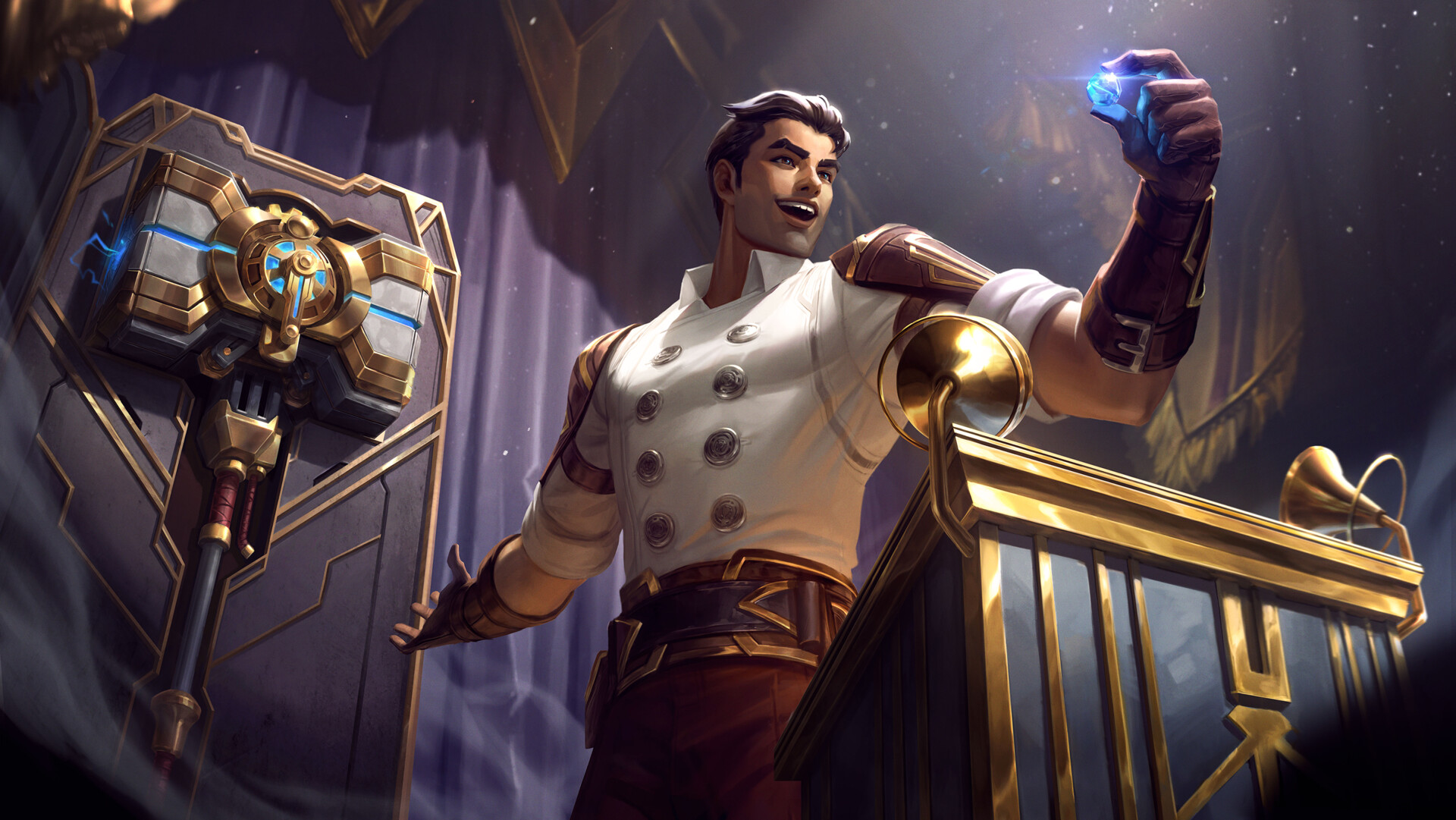 Isn't he the cutest?
3. Battle Academia
Skin spotlight: 
This shonen anime-inspired skin was released on May 13th of 2019.
In this skin line, Jayce is a young student of the Battle Academia, he's a prodigy and owns a brand of inventions built by himself. He's a very popular kid and this is reflected in the splash art.
A colorful skin with a completely new set of visual and sound effects and animations along with 9 chromas for you to choose from. My favorite thing about this skin is that it helps to distinguish between the hammer and the cannon. This makes the gameplay much easier since it's pretty common to get confused or lost when you're changing the weapon in a team fight. The problem with this one is that the mercury hammer is HUGE. Too exaggerated. It kind of makes you lose the center of gravity which makes it feel uncomfortable and unbalanced.
Overall it's a cute skin with a casual outfit and it's worth its price.
How to get Battle Academia Jayce: it's available in the game's store for 1350 RP.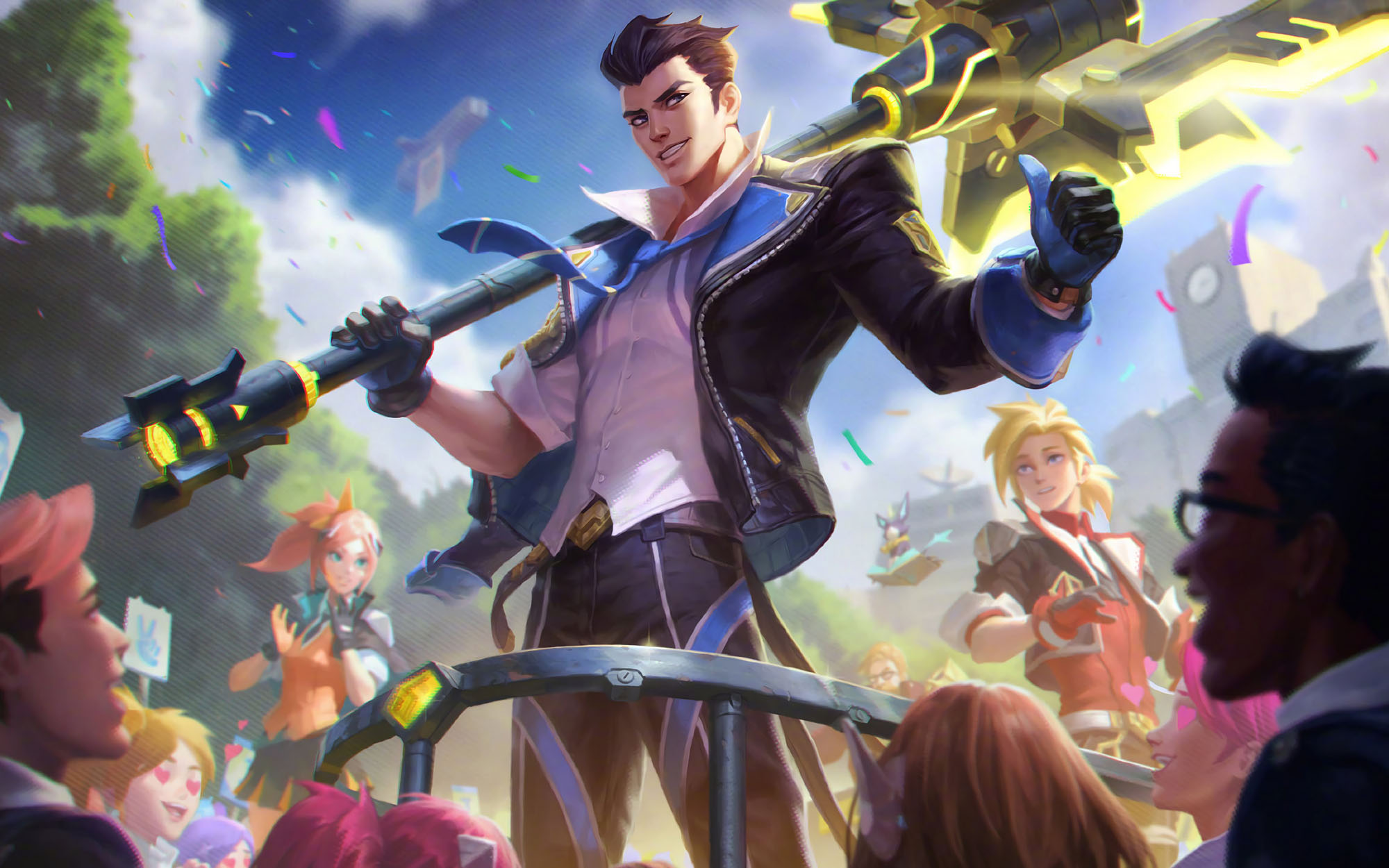 Lux, Ezreal, Yuumi and Graves can be seen too.
2. Zenith Games Jayce
Skin spotlight: 
The newest skin to be released on the next patch brings us a colorful futuristic Jayce. The looks are sportive since it's a soccer-themed skin.
To be honest it is his best skin, it has plenty of details and new visual and sound effects for all of his abilities. Auto-attack feels comfortable and decent when using the cannon. My problem is with the hammer looking too small for him, it feels awkward while using it.
Nonetheless the rest of it it's amazing and it also has a great splash art with winner vibes and showing his booty in all its glory. Irelia can start getting jealous already.
How to get Zenith Games Jayce: it will be available on September 10 of the current year, it'll likely cost 1350 RP as an Epic skin.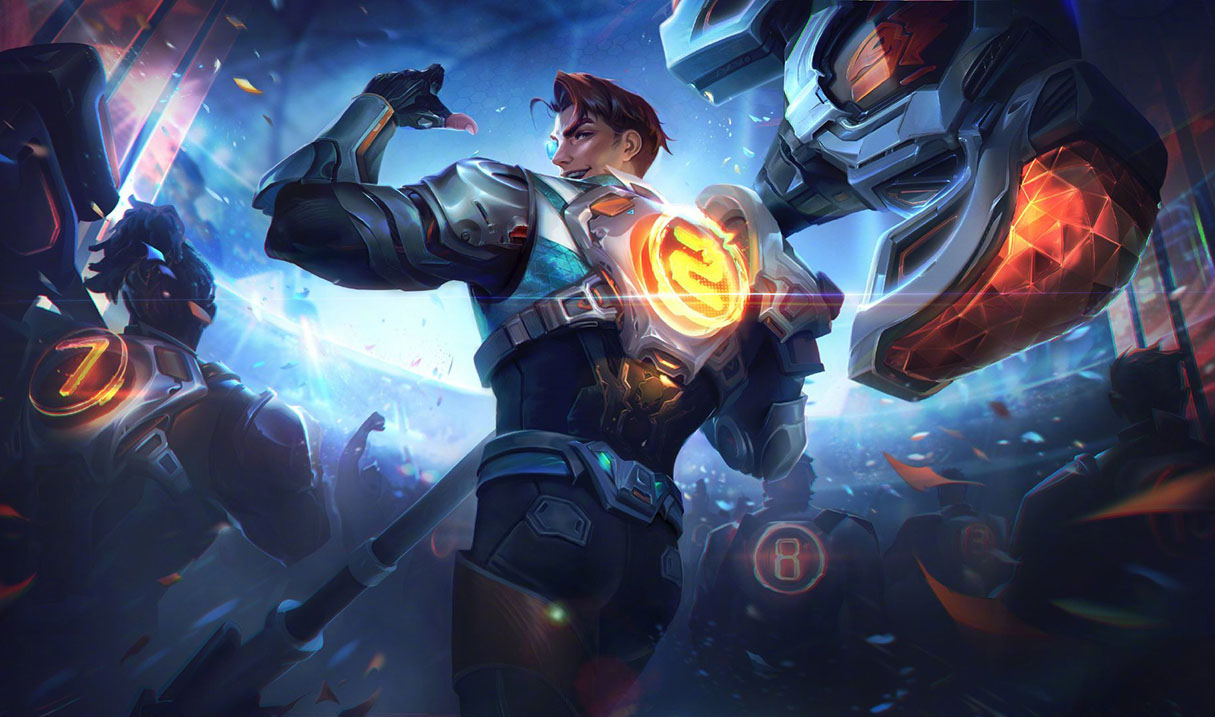 He should be number one.
1. Resistance Jayce
Skin spotlight: 
Finally, Resistance Jayce. Perfect skin. Perfect concept. Perfect Jayce.
This precious skin was released on November the 12th of 2020. In this universe, Viktor and Jayce are against each other. Viktor has risen to power and Jayce wants to take control back, for which he created a Resistance team to put him down. Unfortunately Viktor is stronger than Jayce and his men. Our boy gets defeated and presumed dead. But you can't kill the great Jayce just like that. He survived and it's prepared to fight Viktor one more time.
I think all Jayce players will agree with me when I say this skin is sick! The concept looks very attractive, it's inspired by Terminator and totally honors it. The visual and sound effects make you feel almighty, like Terminator himself. The red palette they chose for the design is fantastic. His hair is blonde, his face has scars and an eyepatch, and for the first time, he's a bearded mature man. Daddy material, don't you think? A total badass killer skin. Have no doubts you'll love to play Resistance Jayce.
If you like dark concepts this one will be your favorite by far. The only problem with this one is that it makes it hard to recognize whether you're using the cannon or the hammer since the color remains the same in both weapons. It can be tricky.
How to get Resistance Jayce: it's available in the game client's store for 1350 RP.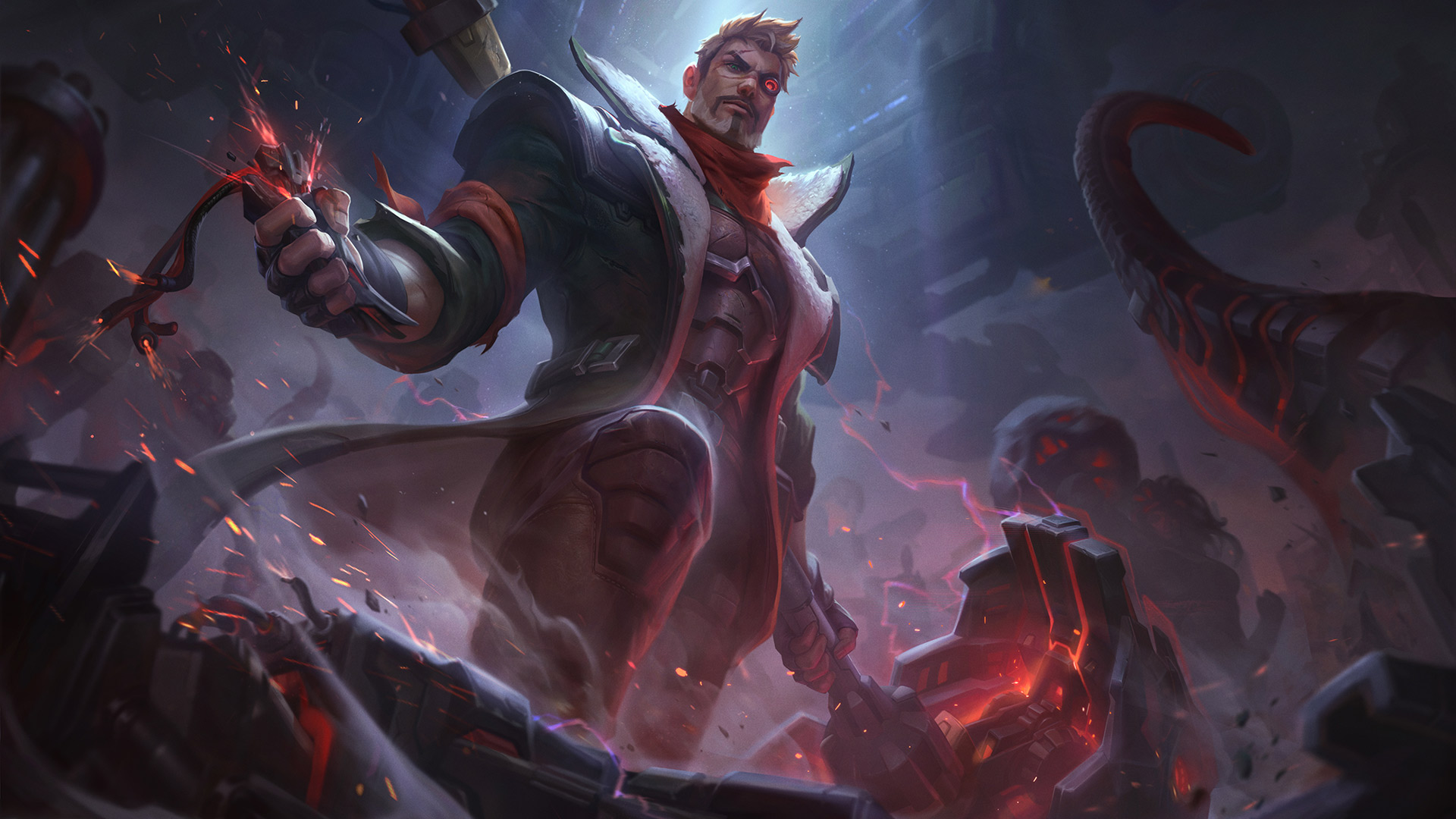 Did I forgot to mention how perfect the splash art is?
You may also be interested in:
Image Gallery