Mobile Legends Best Zilong Skins Revealed (All Zilong Skins Ranked)
Updated: 28 Jan 2023 8:44 pm
Brighten up your gameplay with these Top Zilong Skins.
We count down all of Zilong's skins from not-so-great to legendary. No one ever said that you couldn't look nice while stabbing your enemies to death and Zilong's vast wardrobe of fashionable skins are the exact remedy to that remark. Go ahead and pick out the skin that you think best suits our legendary warrior.
Here are our Top 10 Skins for Zilong.
10. Loyal Spear (OK)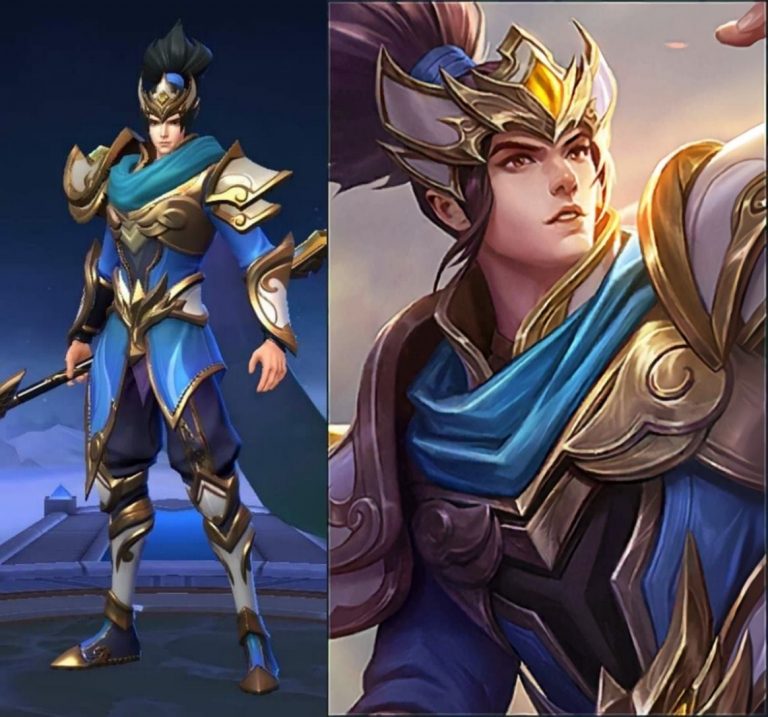 See Loyal Spear in action: 
The first skin on this list is Zilong's Loyal Spear, a skin bearing royal themes with its ivory pauldrons and golden outlines. It doesn't retract much from Zilong's regular look, but needless to say, its simplicity is one of its best aspects. Rocking a striking blue and gold combination, his armor is something akin to that of an aristocratic spearman ready to pounce at enemies at the slightest provocation. 
Visually, it does not bring much to the table save for some blue aura that sometimes appears whenever Zilong casts his skills while using this skin. However, its his golden spear with its shiny exterior that can catch looks. On his head lies a headdress of fine quality, sporting a golden gem in its center. Zilong's Loyal Spear is somewhat basic compared to other skins on this list, but nevertheless, it is a fine skin for the price.
How To Get This Skin:
This skin was available as part of Season 19's First Recharge Event where players can get the skin after topping up during the start of Season 19. It cannot be bought from the store.
Rating:
6/10
9. Elite Warrior (OK)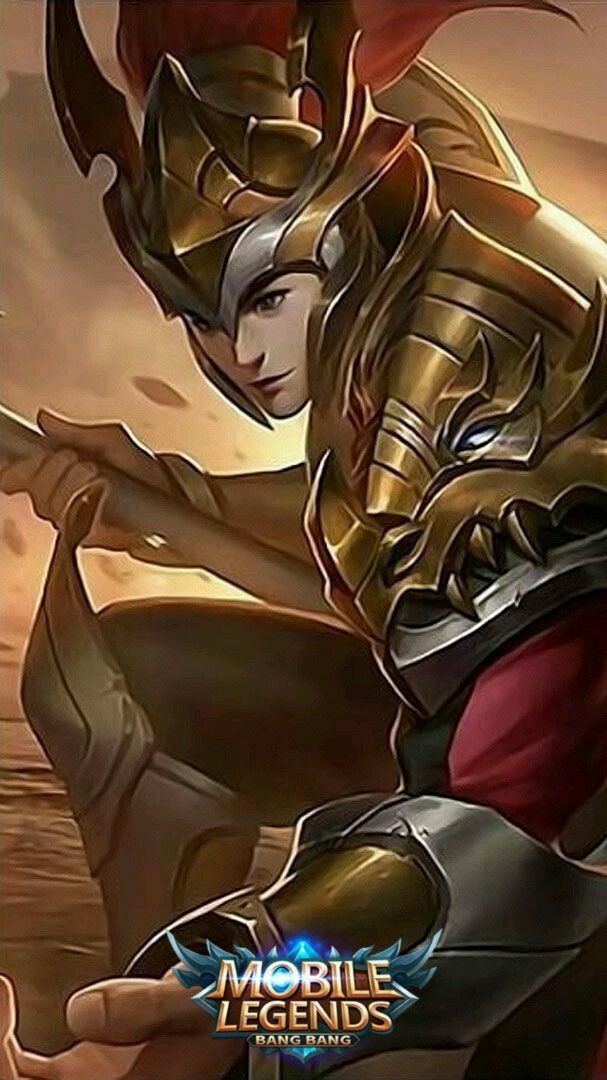 See Elite Warrior in action: 
Much like Zilong's Loyal Spear, the Elite Warrior skin does not offer much changes to Zilong's overall look. It bears the same skill particles, actions, and has no additional animations that can make the skin really stand out in this list. However, the overall design of the skin bumps it up on this list because of how Zilong looks when he has this equipped. It's clean, simple, but looks sophisticated and grand at the same time. 
How To Get This Skin:
This skin is gifted free for all players after completing a training task. 
Rating:
6.5/10
8. Blazing Lancer (Good)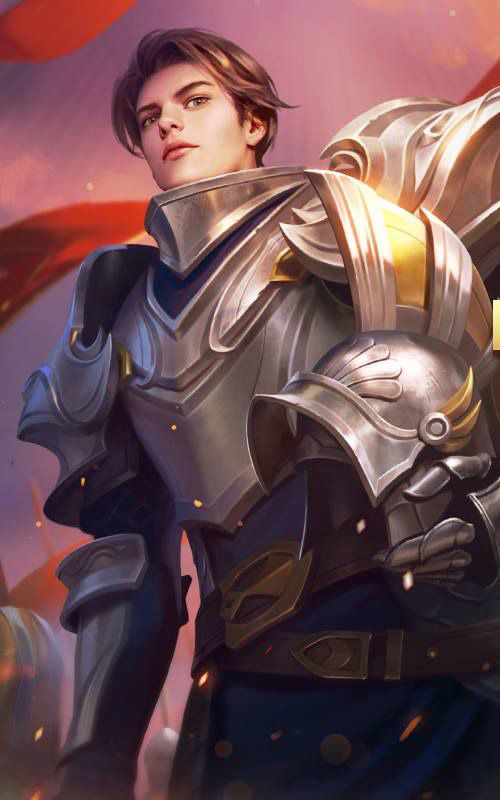 See Blazing Lancer in action: 
While the revamp removed lots of the skin's good qualities, such as the replacement of silver colored particle effects on his attacks and abilities from its regular blue hue, the skin still holds water as one of the better skins to purchase for Zilong because of its stylish nature. Western and eastern worlds clash with this skin, creating a harmonious balance that complements both and having enough room to represent these two different worlds in one truly amazing skin. 
How To Get This Skin:
This Elite skin can be purchased from the store for only 599 Diamonds.
Rating:
7/10
7. Eastern Warrior (OK)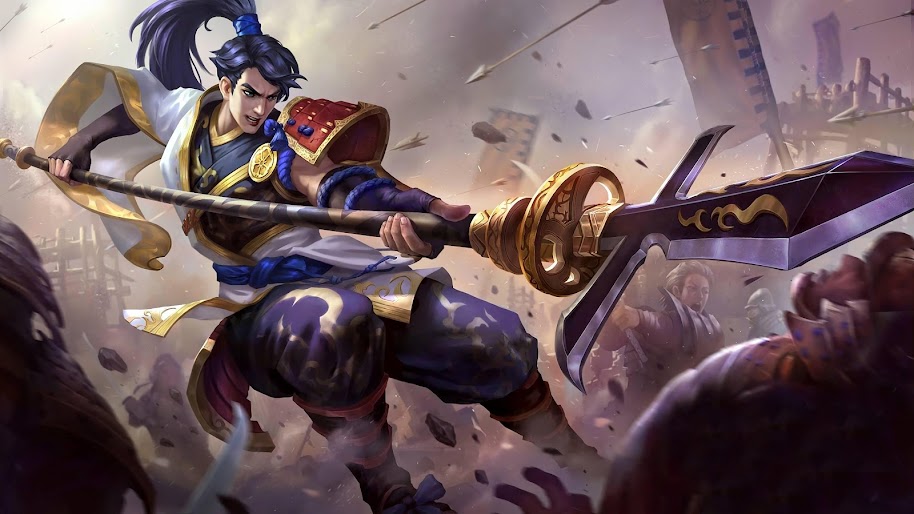 See Eastern Warrior in action: 
In addition to its ancient look, Eastern Warrior Zilong's overall skill particles have been overhauled to fit the theme of this skin much better. The sleek blue coloring of his base skin's particles is replaced with a fiery combination of red and yellow, simulating a glowing look with each slice or cut of his spear. When succeeding in obtaining his passive, the black tip spear burns bright, as if submerged in a pool of hot lava, further exemplifying the threat that his damage could bring to enemies.
How To Get This Skin:
This skin was obtainable in a past Starlight patch and can only available again through the Starlight Fragment shop, should it be in the line up of purchasable items. It cannot be purchased from the store.
Rating:
7.5/10
6. Christmas Carnival (Great)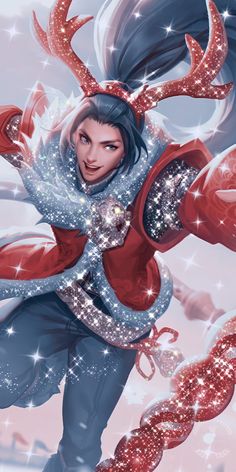 See Christmas Carnival in action: 
With this skin equipped, you can watch as snowflakes fall upon the battleground with each swing from Zilong's mighty weapon. To fully embrace the Christmas season, Zilong has taken it upon himself to wear a bright red suit, complete with green tassels and ivory white fur. With December coming in, this is a surefire skin to pick up if only to stay in tune with the upcoming holidays. 
How To Get This Skin:
This skin was available during 2021's Christmas Carnival Event of which was held in December and cannot be purchased from the store.
Rating:
8/10  
5. Summer Waves (Great)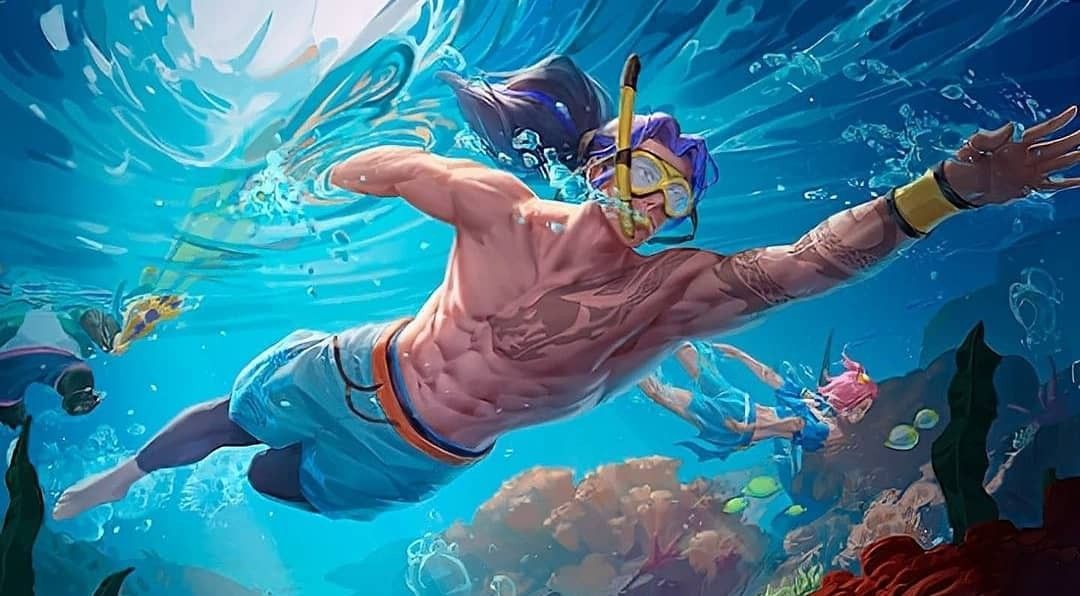 See Summer Waves in action: 
Complimenting the color motif of his pants are his thick, cerulean colored hair which is tied behind his head to ensure that even when he's going all in, he can still see the battle ahead and look cool while doing it. Intricately placed on his chest is a faded Dragon tattoo, further solidifying that even when relaxing, his role as the Spear of Dragon is never forgotten. 
How To Get This Skin:
This skin is only available through Mobile Legends' Limited-Time Summer event and cannot be purchased from the store. 
Skin Rating:
8/10
4. Changbanpo Commander (Great)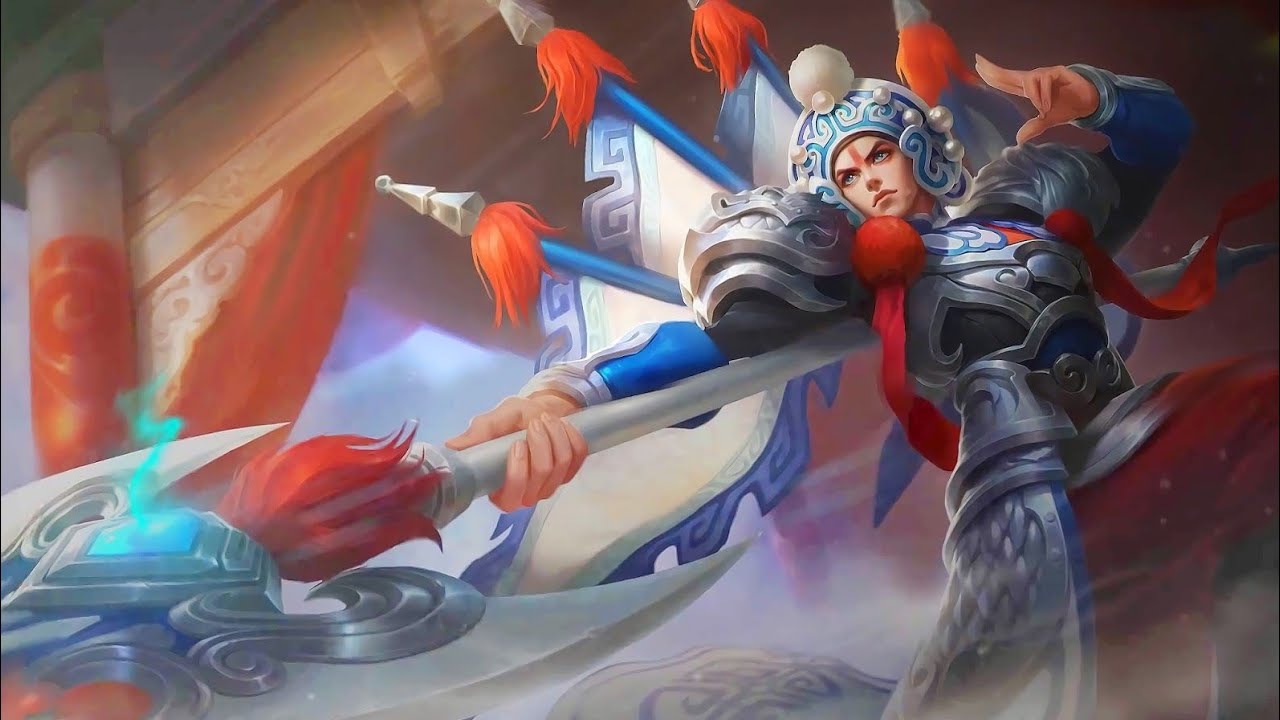 See Changbangpo Commander in action: 
Blue and white outlines make up the brunt of his overall color motif. His armor, laced with red ribbons, is intricately designed with padded metal bearing specifically shaped engravings. Alongside this skin comes special skill particles bearing electric blue colors, leaving behind a hazy aftereffect reminiscent to that of an ink blot with each successful strike. Strike fear into the hearts of his enemies and watch them crumble as they stare at the majesty of this skin.  
How To Get This Skin:
This skin is only available through Limited-Time events and cannot be purchased from the store. 
Rating:
8.5/10
3. Glorious General (Legendary)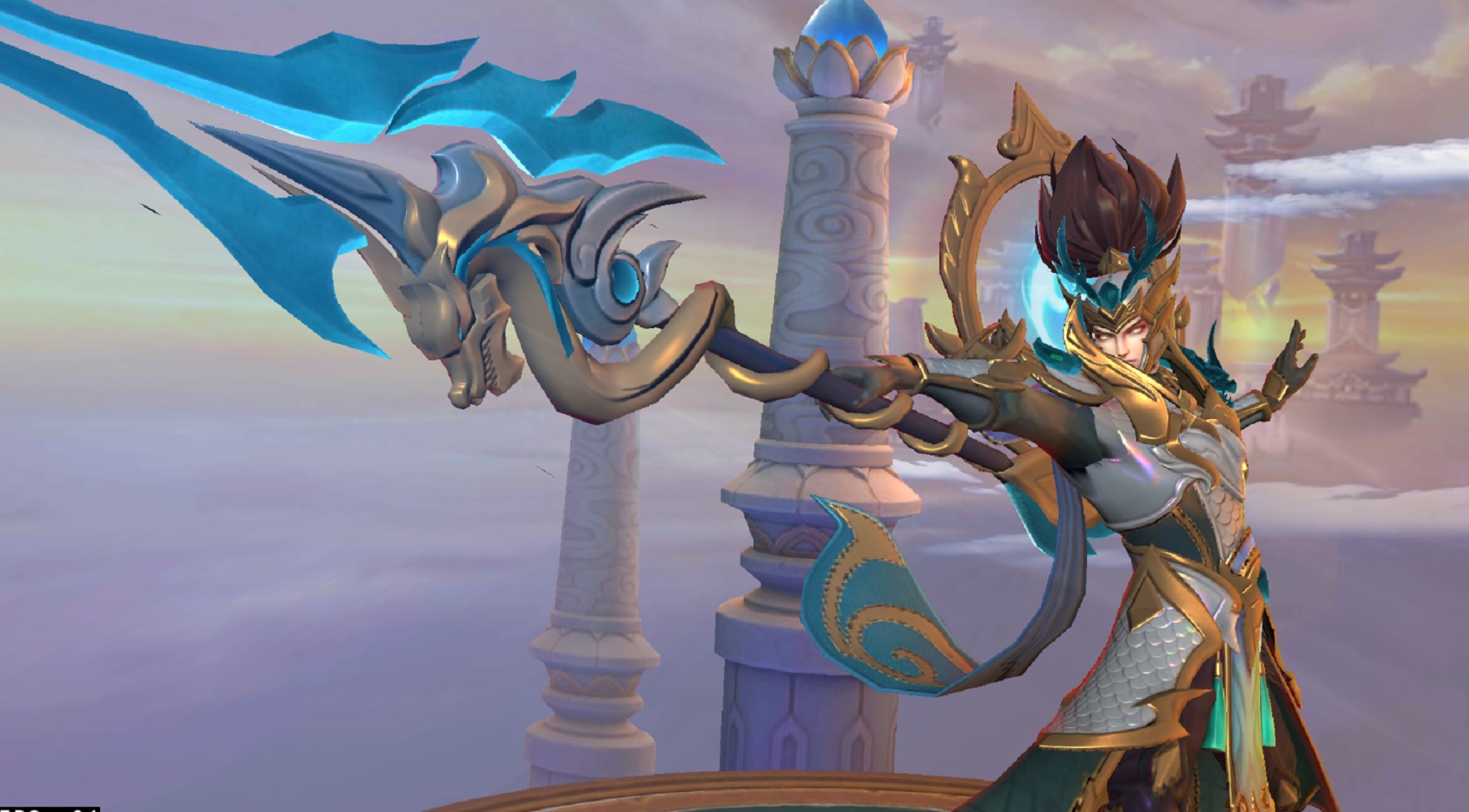 See Glorious General in action: 
To further the regal component that this skin brings, Glorious General Zilong's skill and attack particles are changed to dragon -like waves, with each swing bringing such elements out. However, there are some visual changes that are maybe different compared to the old one, such as Zilong's Supreme Warrior ability where in the original, a large dragon would appear upon casting. In the newer skin, the dragon is smaller and less visible. The colors on his Ultimate are also changed from sharp red to cool blue. Either way, its a solid revamped skin that's worth the money. 
How To Get This Skin:
This Epic skin is available for purchase now at the store for only 899 Diamonds.
Skin Rating:
9/10
2. Storm Rider (Legendary)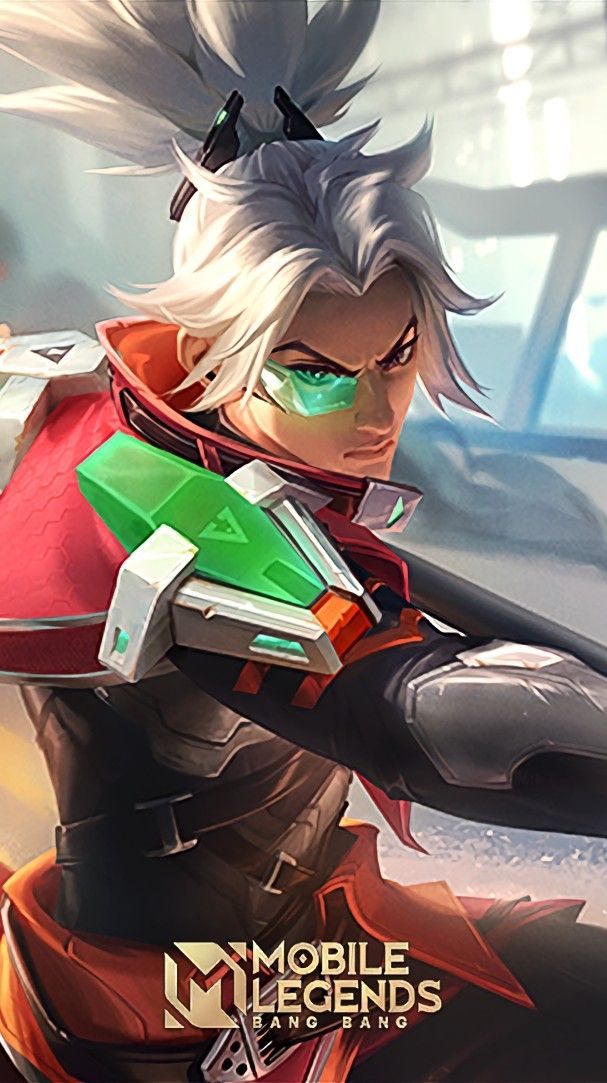 See Storm Rider in action: 
Technology has never looked so sleeker than with Zilong's Legendary Storm Rider skin. Influenced by cyberpunk aesthetics, Storm Rider Zilong is a skin deeply encased in sophisticated hardware, using high-tech graphics and special effects to further the skin's technological motif.  
Every attack made by Storm Rider Zilong is further enhanced by its offensive moves, where each hit or skill cast is followed by a wave of technological particles that gives this skin that clean, futuristic look. His Ultimate wraps him in a sharp orange tint, powering him up with a flurry of hexagonal graphics to really bring out that cyberpunk look that the skin is going for. 
How To Get This Skin:
This skin was available for free to all players during Mobile Legend's 515 All-Star Event back on April 28, 2022. Players participating in the events could unlock the skin by completing daily challenges necessary to keep moving up levels until eventually being able to claim the skin as part of the special event.
Skin Rating:
9/10
1. Empyrean Paladin (Legendary)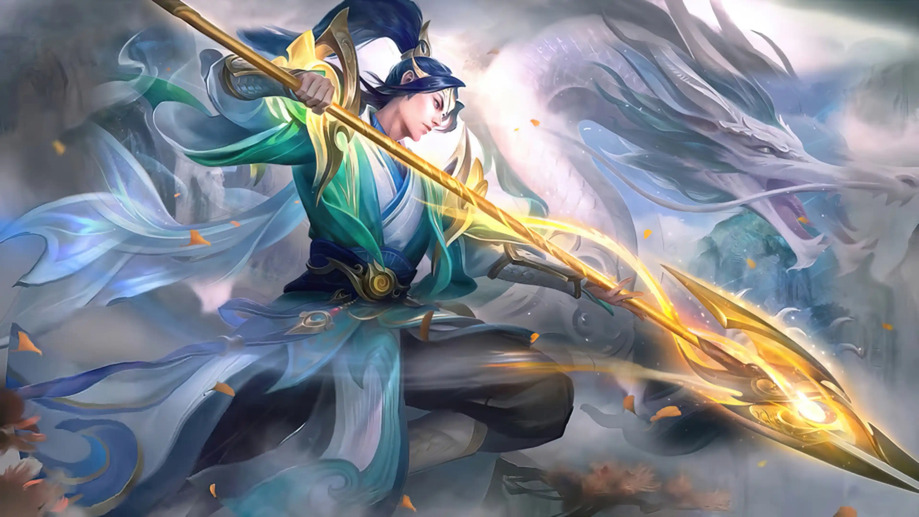 See Empyrean Paladin in action: 
Unleash the ferocity of the heavens with Zilong's Empyrean Paladin skin. Carrying the might of the dragon with each powerful thrust of his spear, Zilong's Empyrean Paladin skin will surely mesmerize his enemies with its graceful and ethereal visage long enough before they ever notice the creeping tip of his weapon reaching their necks. Watch as streaks of teal and gold follow his every step and attack, adding to the heavenly nature of this Collector skin of which takes inspiration from ancient legends. 
Being a Legendary Collector Skin, Moonton spared no expense in ensuring that our resident Dragon Warrior is granted the garments that he needs to fully exercise his beauty and lethality in the field of battle. Coupled with a striking color palette of teal and white, The Empyrean Paladin skin comes with brand new skill effects, particles, and animations that will make any skin enthusiast in the game want this particular piece for their collection.  
How To Get This Skin:
This skin was available as part of his Grand Collection Event back in February 2022 and can no longer be purchased through Diamonds at the store. However this skin, alongside some past Collector skins, might be available through the next Grand Collection event so stay tuned!
Skin Rating:
10/10
You may also be interested in: