Mobile Legends Best Rafaela Skins Revealed (All Rafaela Skins Ranked)
Updated: 21 Jun 2023 6:22 pm
Rafaela has 7 attractive skins, bound to have your opponents on retreat.
Rafaela was the first healer and support that was introduced to Mobile Legends. She is quite an underestimated hero who brings great value and potential to teams for her ability to debuff, deal damage and support allies through HP Regen. Though limited, her skills are well-rounded and values her as a substitute Tank and Mage as well while she specializes primarily in Regen/Guard.
Similar to her brother Argus, she has the capacity to withstand damage over prolonged periods. Rafaela is an effective option if you're seeking a support/tank outside hero roles. The use of skins are vibrant in her unique scenario as a utility. The Wings of Faith as she is known has 7 alluring and charming skins that transform her visual image in each instance. We have compiled them in a ranked method. Let's proceed to check them out!
7. Fertility Goddess (Good)
See Fertility Goddess in action: 
Rafaela is one of the rare heroes who doesn't own a basic or normal skin. Fertility Goddess is the closest to basic though is in fact an Elite Skin. This comes as no surprise since there are no added perks with this skin that renders it basic, but she is totally transformed by an enticing ancient outfit that references Isis, the ancient Egyptian goddess of love, fertility, magic, and healing.
Fertility Goddess is a unique and vivid representation that captures Rafaela's character in superb fashion. The powerful aura and energy that it delivers to the battlefield is remarkable, to say the least. Provided her role, her unique outfit and hairstyle highlights her presence in being the protector that she is to her comrades.
How to get Fertility Goddess
This Ancient Egyptian piece of art is available for only 399 Diamonds in Shop. 
Skin Rating
Elite Skin - 3/10
6. Star Chaser (Good)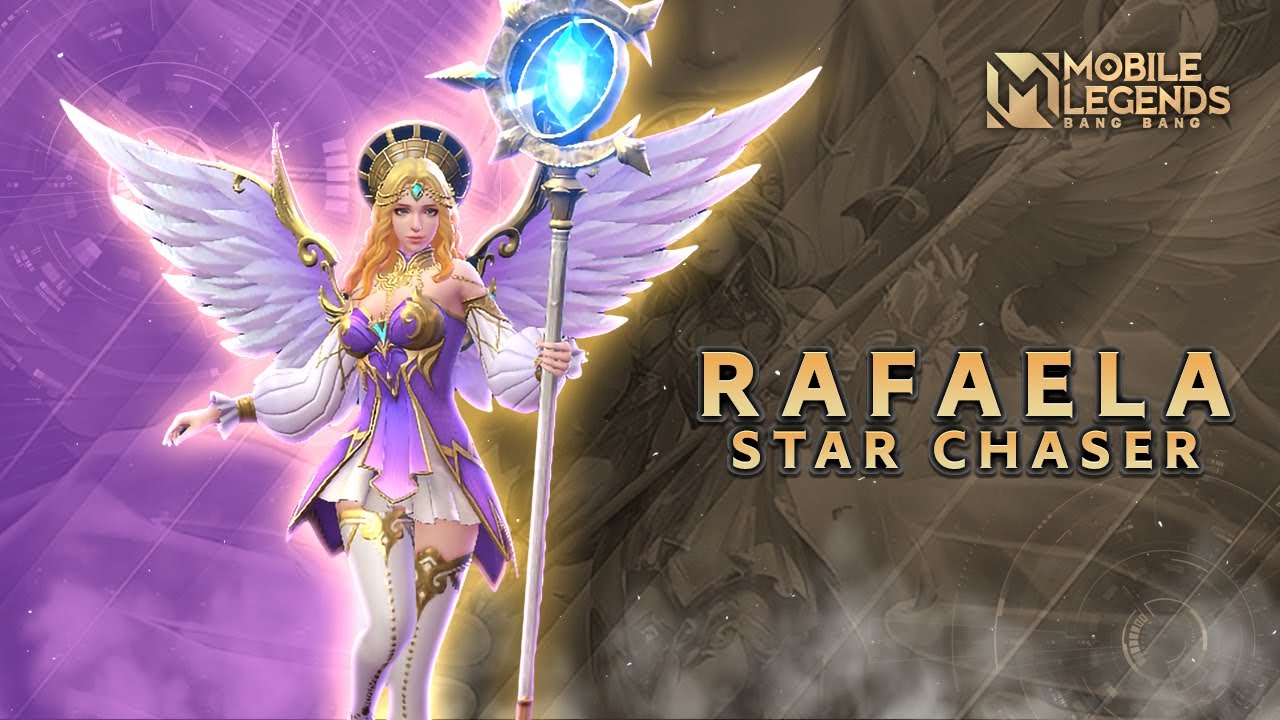 See Star Chaser in action: 
Star Chaser is free when Rafaela is purchased, owing to the fact that it is a Season 18 Reward Skin. Once again we see a thorough modification through her attire, physicality, and appearance as a Saintly Angel Model. Throw-ins include newly launched display animation and brand-new skill effect colors.
The skill colors that mirror her attire with a hint of gold intensify the purple hue that emanates from her dress throughout the battlefield. Through visualization, this reflected dynamic between her outfit and skill effects genuinely shows off her endurance and vitality, especially as a utility support in battle
How to get Star Chaser
Rafaela costs only 6500 Battle Points. If you purchase her now, you can own this elegant class of display given it is the Season 18 Reward Skin.
Skin Rating
Season Skin - 4/10
5. Angelic Sonata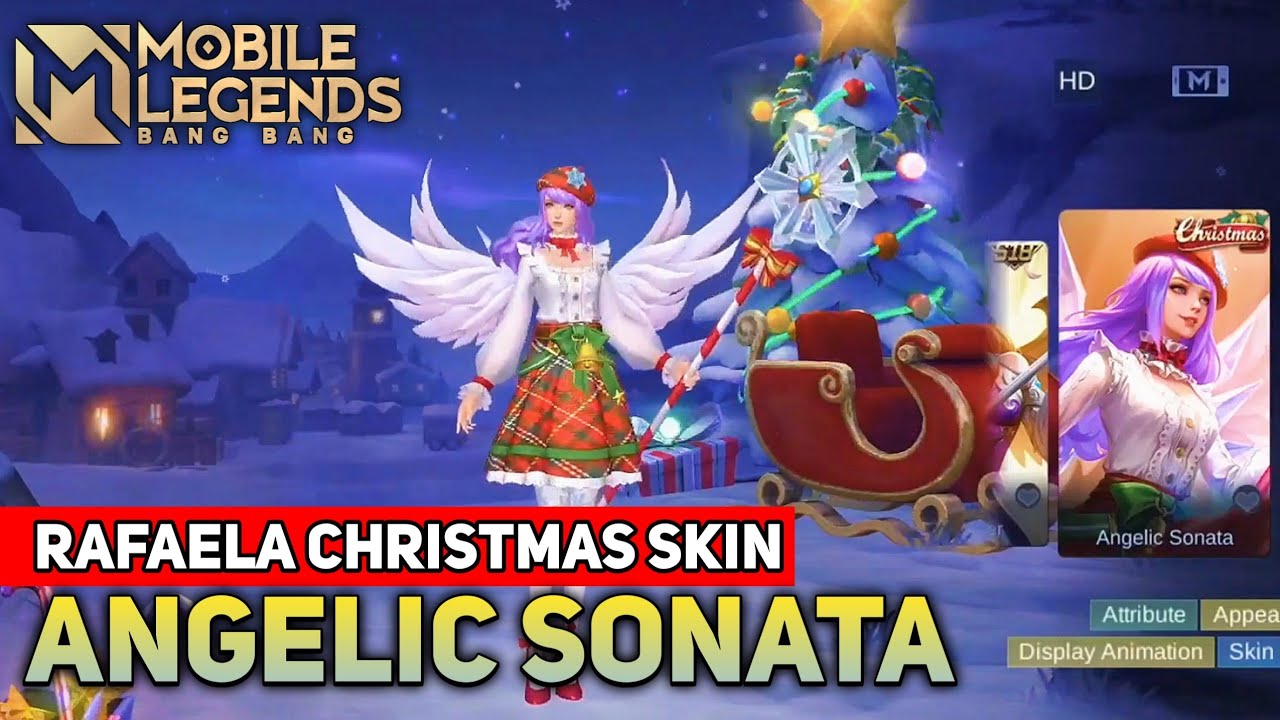 See Angelic Sonata in action: 
Feel jolly through this occasion themed skin where Rafaela is featured as a christmas model. Angelic Sonata may appeal to skin collectors given it is part of Christmas themed skins while having its own unique appeal and presentation. Added perks comprises brand new display animation and festival effect skills. 
Rafaela is very well presented through this compelling impression. It almost strays away from her angelic roots, depicting her as one of Santa's helpers. It is a highly powerful and sophisticated portrayal with her skill effects resembling snowflakes with a blue hue, which is quite an intricate touch that adds to the high level of complexity that is elegantly displayed in all her simpleness.
How to get Angelic Sonata
You may obtain this festive skin through Limited-time Events. Be sure to skim through available events and take part everytime you log in to play.
Skin Rating
Special Skin - 5/10
4. Seraphic Selfie (Great)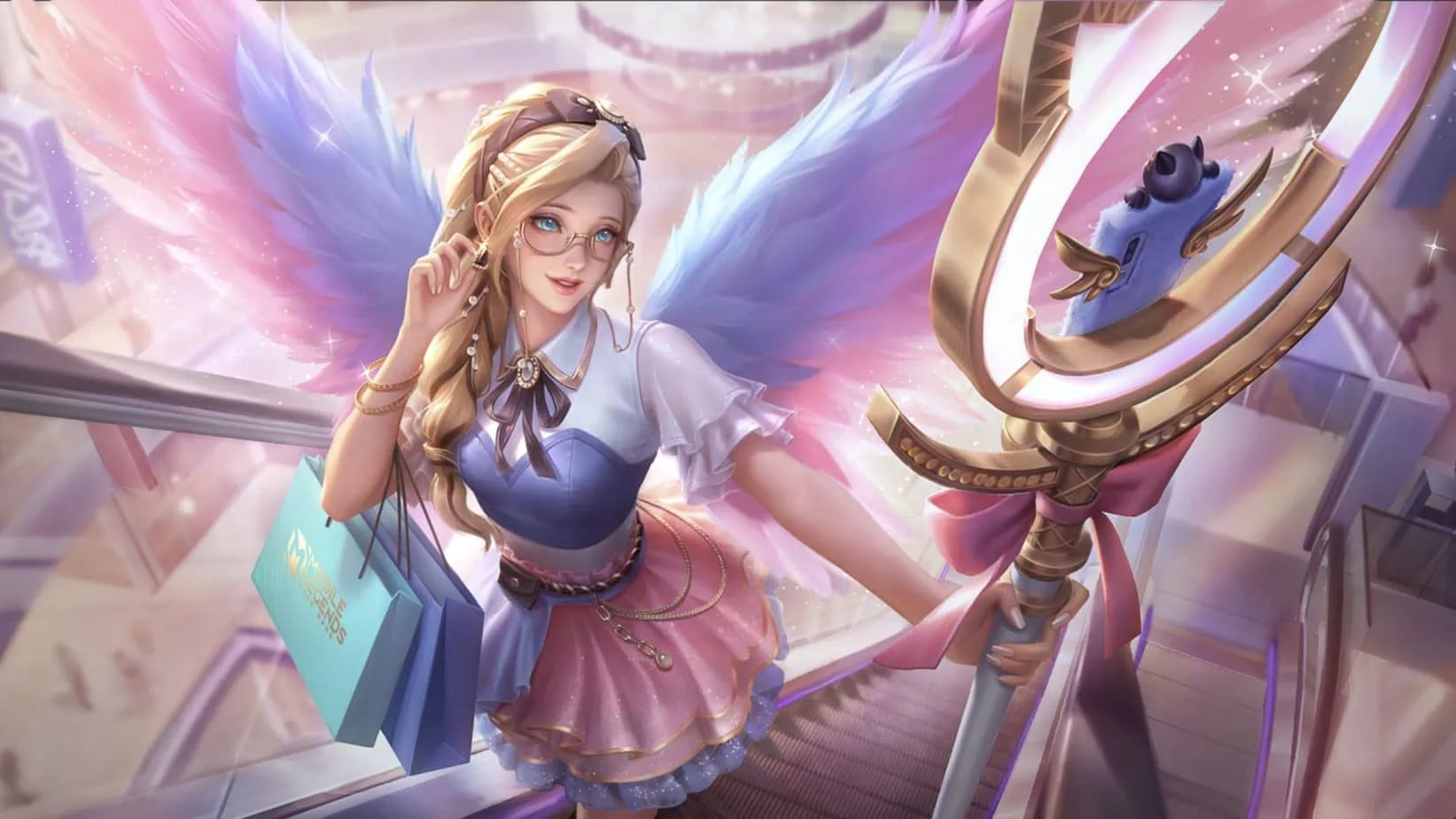 See Seraphic Selfie in action: 
As the name indicates, this skin symbolizes innocence, where Rafaela appears as Harmonia's shining light. For context, Harmonia is known as the Goddess of purity in Greek mythology. She virtually resembles a ballerina dancer thanks to a gorgeous alteration, new display animation, and adjustments to skill effects.
Rafaela appears a bit more mature in this skin that observes a unique combination of pink and light purple through her outfit and skill effects that provides uniformity and rhythm in displaying power and control. Indeed simple but still a captivating depiction in its deepest essence that surrounds her with energy
How to get Seraphic Selfie
This brilliant display of colors may be obtained via Limited-time Events. Be sure to check out all events each time you log in.
Skin Rating
Special Skin - 6/10
3. Biomedic (Great)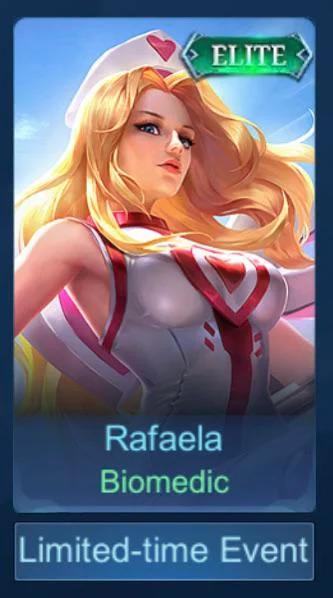 See Biomedic in action: 
Biomedic is one of the most rare and highly sought-after skins in ML. It is an MPL (Mobile Legends Professional League) themed skin that illustrates Rafaela as a gorgeous nurse. With this skin's brand-new skill effects and completely new display animation, she is a true hottie.
Rafaela is presented in a unique fashion given that her beauty is emphasized. Besides this, her scepter is converted into a giant injection that sticks out in distinction. Despite having only two lifeless colors—pink and white—Biomedic is a highly effective representation. Her general theme is complemented by the pink color of the skill effects.
How to get Biomedic
This enticing display of beauty may be obtained through Limited-time Events.
Skin Rating
Elite Skin - 6/10
2. S.A.B.E.R Savior (Legendary)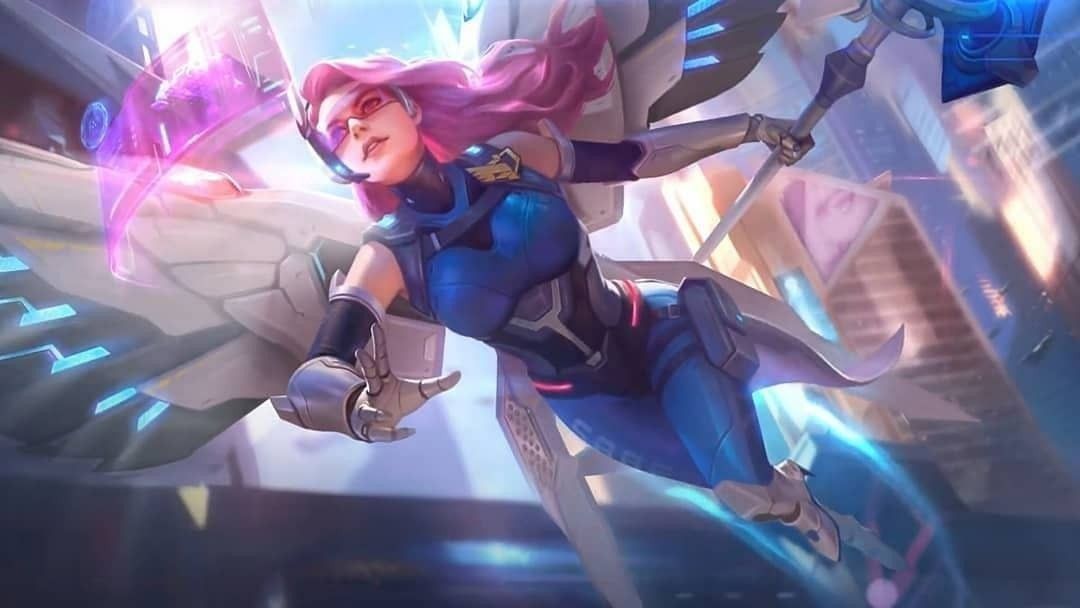 See S.A.B.E.R Savior in action: 
This is a cyber themed collection of skins that is limited only to a squad of 5 heroes as of the time of this writing. It is sure to appeal to collectors while being the only futuristic representation on this list. Presenting Rafaela as a S.A.B.E.R Squad Model, added perks include voiceover changes, all new skill effects, exclusive S.A.B.E.R Squad display scene and animation.
It is inconceivable to deny the brute strength and determination that this skin emits during combat. Rafaela is transformed from a heavenly entity into a defender of the law via the sophisticated and futuristic portrayal S.A.B.E.R Savior, which nonetheless reflects her angelic origins. While the skill effects perfectly match and recreate the general blue theme, her attire appears automated rather than natural, being the healing entity that she is. 
How to get S.A.B.E.R Savior
This futuristic cyber themed depiction is available for 899 Diamonds in the Shop.
Skin Rating
Special Skin - 9/10
1. Flower Fairy (Legendary)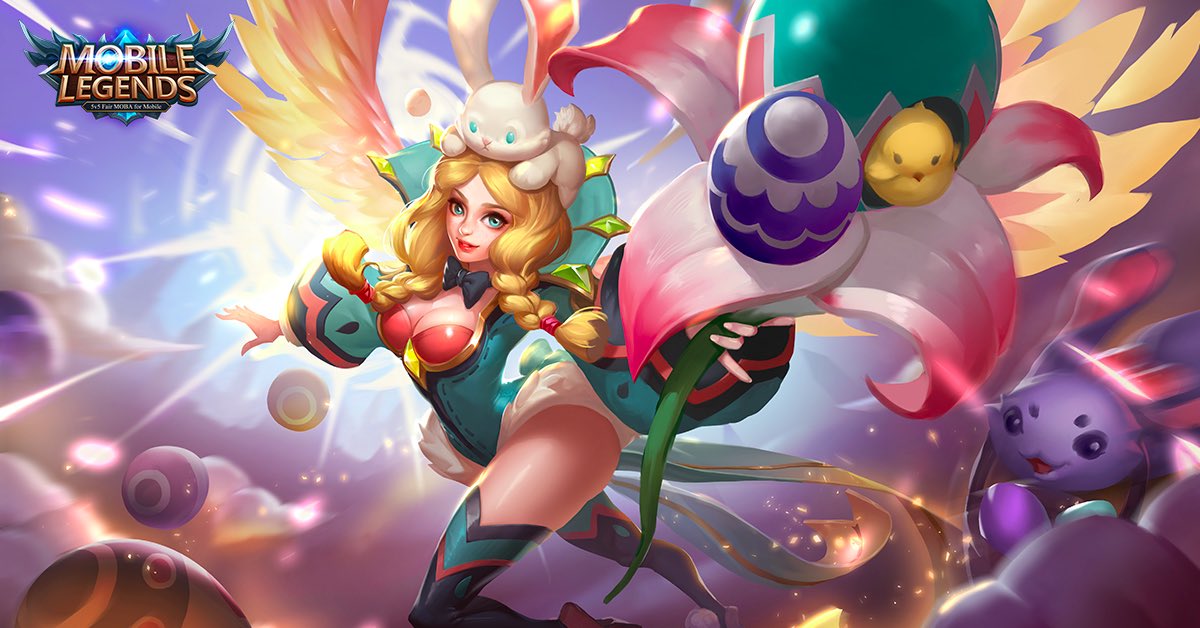 See Flower Fairy in action: 
In the splash art, you should spot a bunny rabbit on her head. That's the first giveaway of yet another occasion-themed skin that might appeal to skin collectors looking to own every skin in this collection. While illustrating Rafaela through an Easter-themed model, Flower Fairy features additional incentives which include new display scenes, easter egg display animations, and alterations to skill effects.
Rafaela's imagery evolves on an entirely distinct level of visualization despite its somewhat dull and generic splash art. Although there are only two distinct hues—pink for her wings and a shade of blue mixed with green (almost yellow) for her attire—the colors are comparable to a rainbow. Her skill effects also highlight these vibrant hues, assembling an all-around stunning spectacle across the field of play.
How to get Flower Fairy
This stunning presentation of colors may be yours for 899 Diamonds in the Shop.
Skin Rating
Epic Skin - 10/10
You may also be interested in: