[Top 5] Rainbow 6 Siege Best Mira Loadouts
Updated: 14 Sep 2021 8:18 pm
I've always thought that her codename is just slang for 'mirror', but apparently, it means 'look' in Spanish.
There are some objective areas where Mira's presence is almost essential, like in the Bank's vault or Villa's aviator & games room. Even with the nerf, her 'black mirror' still makes it very hard for attackers to push into the objective area, and in some instances, the nerf can even be used to her own advantage. Used in conjunction with her loadout choices, operator Mira is one hell of a defensive menace. Sometimes teams are even forced to abandon a push in one area just because Mira is there.
5. ITA12L + USP40 with Muzzle Brake and Laser + Proximity Alarm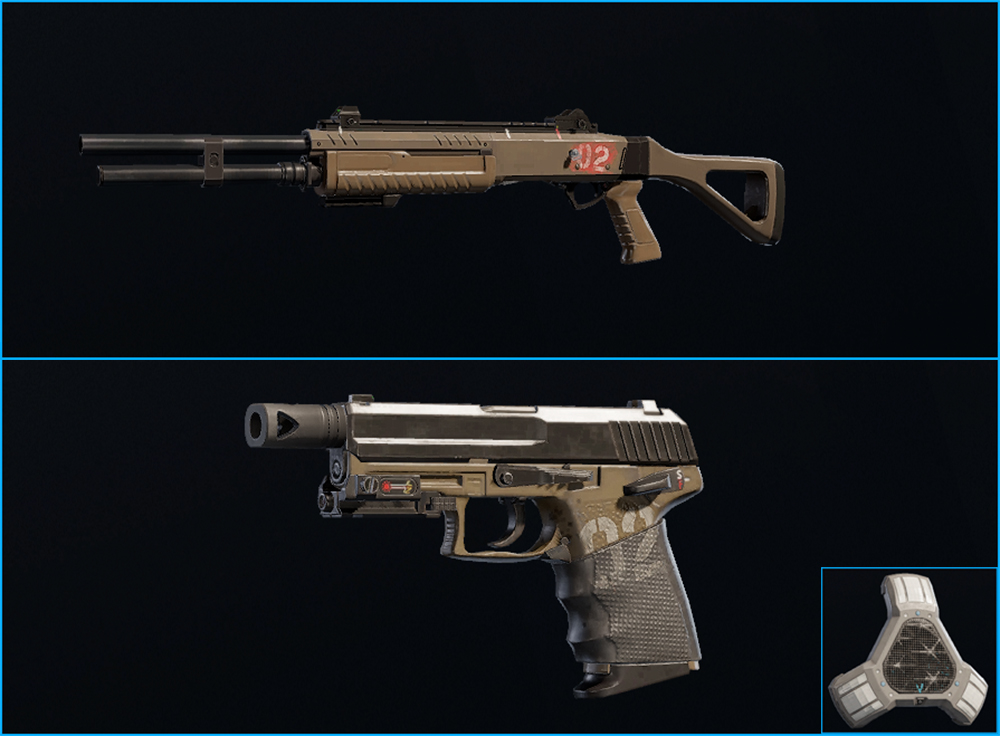 New meta? Probably not, but with the nerf, you might wanna test it out. 
The most recent nerf makes it so that attackers can now melee the black mirror from the other side and cause it to crack, making it opaque from both sides. But with a shotgun in hand, you can use that to lure attackers into engaging in close quarters where shotguns are most notorious.
Once an attacker shatters your black mirror, hit its canister to let the mirror fall down, creating more angles for your attack. Deploy one proximity alarm on the back of your objective area so that you'll notice if someone is flanking you, and deploy one near the front of your black mirror so that you'll always be aware if there's a potential victim for your shotgun at close range.
Excels in:
4. Vector .45 ACP with Red Dot, Compensator, and Vertical Grip + ITA12S with Laser + Proximity Alarm

Proximity alarms always disrupts the momentum of attackers
This loadout will feel the most balanced and the most solid, because vertical grip plus compensator always yields the most stable recoil control, especially for a high fire rate gun like the Vector .45 ACP. This loadout is great for preventing attackers from pushing one area because you'd be able to keep hitting them with stable recoil, and you can prevent flankers from getting the jump on you by placing proximity alarms in strategic locations.
Excels in:
Sustained fire
Close to medium range
3. Vector .45 ACP with Red Dot, Suppressor, and Vertical Grip + ITA12S with Laser + C4

There's only 4 damage difference between an unsuppressed Vector .45 ACP and a suppressed one
The Vector's damage is very low to begin with, but it compensates with high fire rate at relatively low recoils. With the suppressor, you're taking advantage of the high fire rate and low recoil to land shots while peeking from your black mirrors, without letting your enemies know the exact direction your bullets are coming from. With that, you can keep harassing them with shots from high and low. Mix it up so that they won't be able to land an effective counter fire.
Another benefit of the suppressor with this gun is that it lessens the chances of opponents catching you unaware, because you'll be able to hear your surroundings better with a silent gun.
Excels in:
Close to medium range
Stealth
2. Vector .45 ACP with Red Dot, Flash Hider, and Vertical Grip + ITA12S with Laser + C4

With controlled bursts, flash hider is the best.
The great thing about firing with a flash hider, especially when peeking from Mira's black mirror, is that it hides the muzzle flash of your gun, not just from your enemies but from you as well. Sometimes your own muzzle flash can blur your own vision, and it can mean the difference between a kill or being killed, especially when facing an intense push from the enemy team while attempting to defend an area with your black mirror. 
Excels in:
Close to medium range
Small bursts of fire
1. Vector .45 ACP with Red Dot, Extended Barrel, and Vertical Grip + ITA12S with Laser + C4

I always go with the default skin on this one because it's a beauty
With the extended barrel, you'll be inflicting maximum damage even from long range, and there are many objective spots like the aviator room in Villa where you can strafe the enemies while peeking from your black mirror from long range. With proper cursor placement along with the aid of the black mirror, it's best to aim around the shoulder area and let the subsequent kicks go to the head. 
Use the ITA12S shotgun to make rotation holes which is very valuable while defending. You can also use it to make holes on the unreinforced section of reinforced walls for throwing your c4 over to the attackers.
Excels in:
Attention operator, please be advised. There is a new directive from Six. Read up on these related articles, and prepare for deployment:
You May Also Be Interested In: