League of Legends Forums: 10 Best LOL Forums To Hang Out In
Updated: 12 Sep 2015 1:02 am
Who better to talk to about League than other League players?
Solo queuing can get lonely sometimes... That's what LOL forums are for!
Why not find someone to talk to? Participating in League of Legends forum discussions is one of the best way to meet new people (maybe even someone to queue up with!) and broaden your perspective on the gaming world. There's a whole different feel to the environment that is forum chatter, so why not give it a shot?
10. LoLPro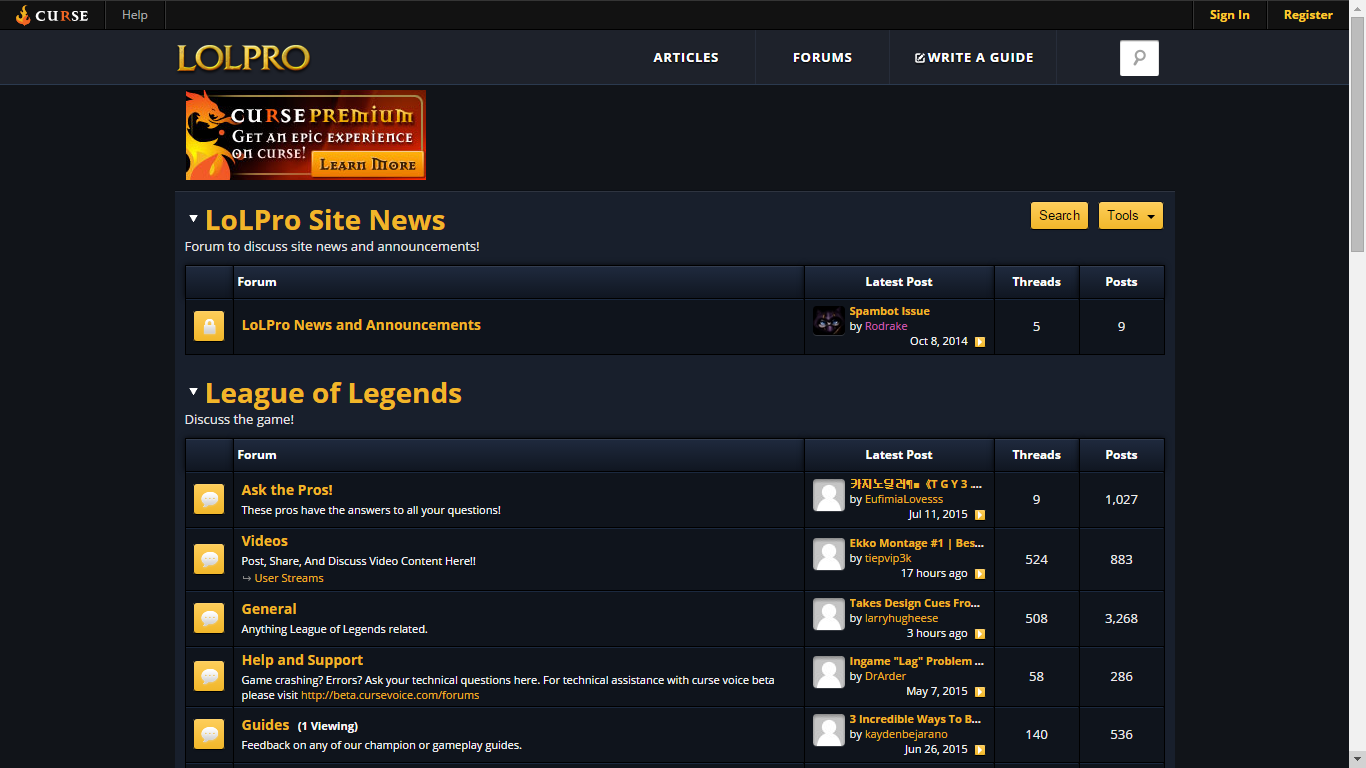 This forum has some interesting pages through which you can peruse: articles, guides, builds, and much more. I can't put this forum at the top of the list, though, because this community isn't particularly active – many of the current guides and builds on the website were posted back in 2013 or 2014, which doesn't bode well for players trying to play with the current meta. There are also quite a few (a lot, actually) spam posts, and some of them are from more than a week ago, which leads me to question the vigilance of the forum moderators.
What this forum does have, however, is an "Ask the Pros!" subforum. Although this subforum is also somewhat barren of active community members, it is quite interesting to see what some pro players have to say about League of Legends and about their playstyles.
9. Elitepvpers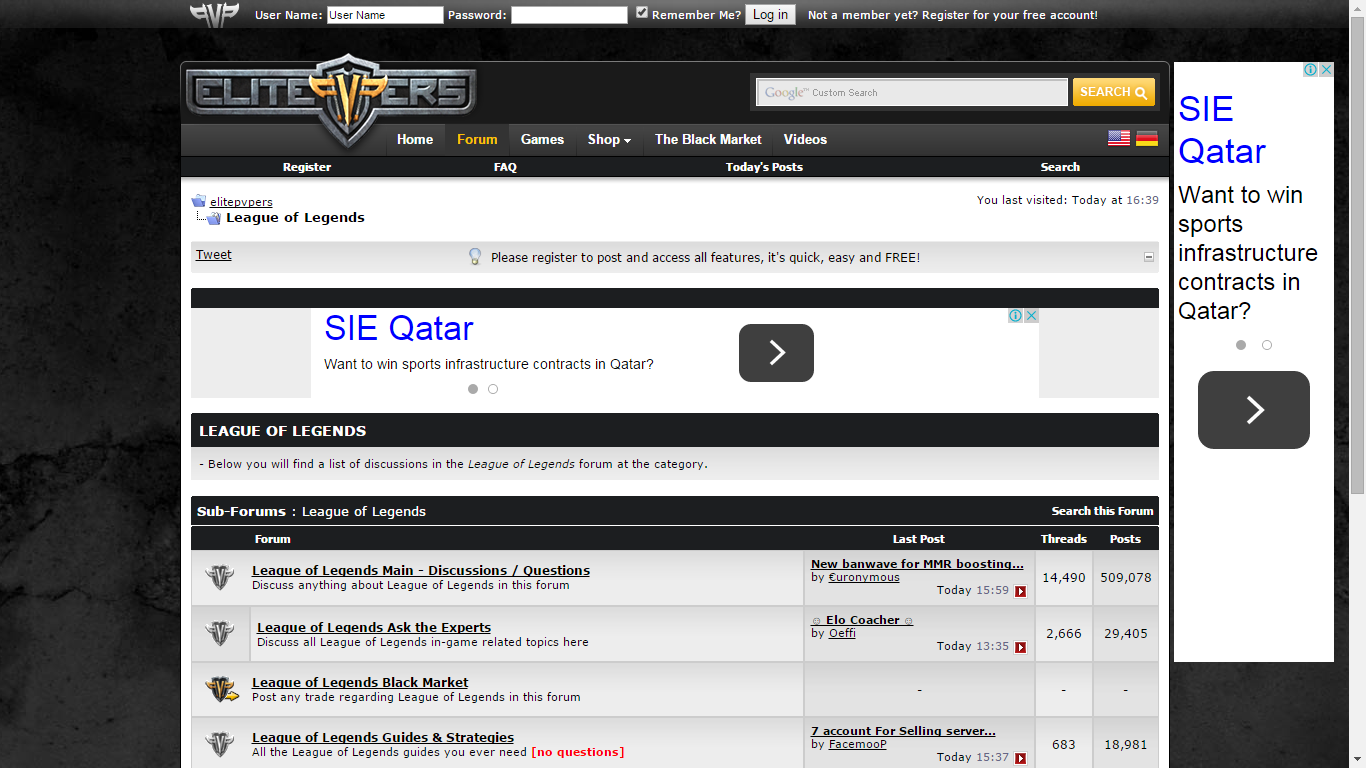 This forum boasts a variety of functions, including the requisite League of Legends discussion – there are quite a few gems here, hidden among some of the foreign-language threads (most of them are in German), such as information regarding in-game updates and the newest rules and bans from Riot.
There are also LoL guides as well as hacks and cheats if you're interested in those kinds of things, as well as one subforum dedicated to the League of Legends Black Market. I won't say more here, but maybe it's worth some of your time.
8. Reign of Gaming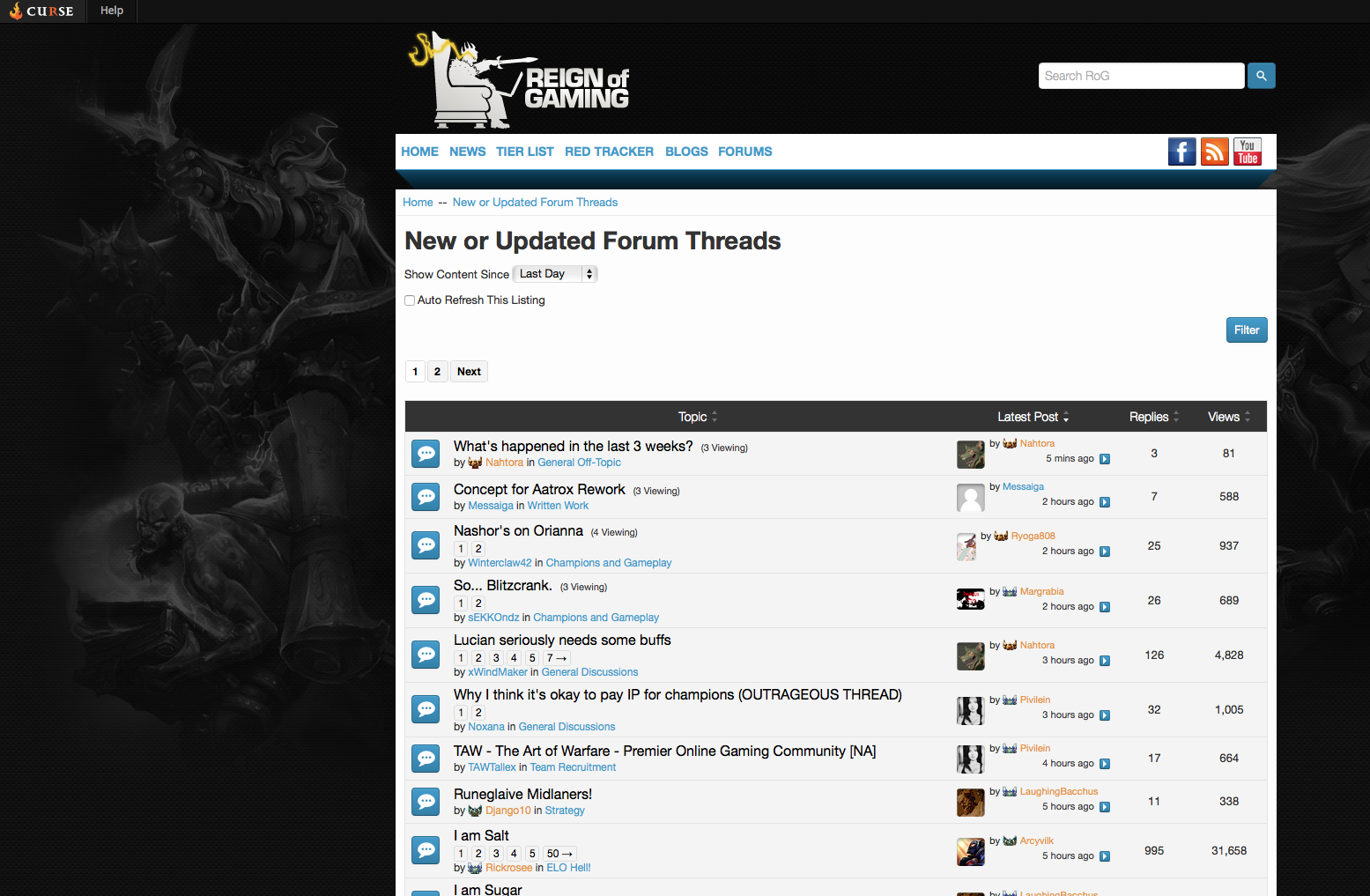 What we have here is a very active, very helpful forum that's part of the Curse Network, and you'll find all sorts of interesting discussions and threads that'll pique your interest. It's a much more relaxed atmosphere than some other types of League forums – if you want to talk about your gaming habits, for example, or start some easygoing banter about your favorite champions, this is the place to go.
If you become bored, you can always pop over to the news section, where you'll find a consistently-updating stream of articles containing opinions about everything from the latest patches to champion ultimates to ward placement. You can even start a discussion in the comments section, if you'd like.
7. Bot of Legends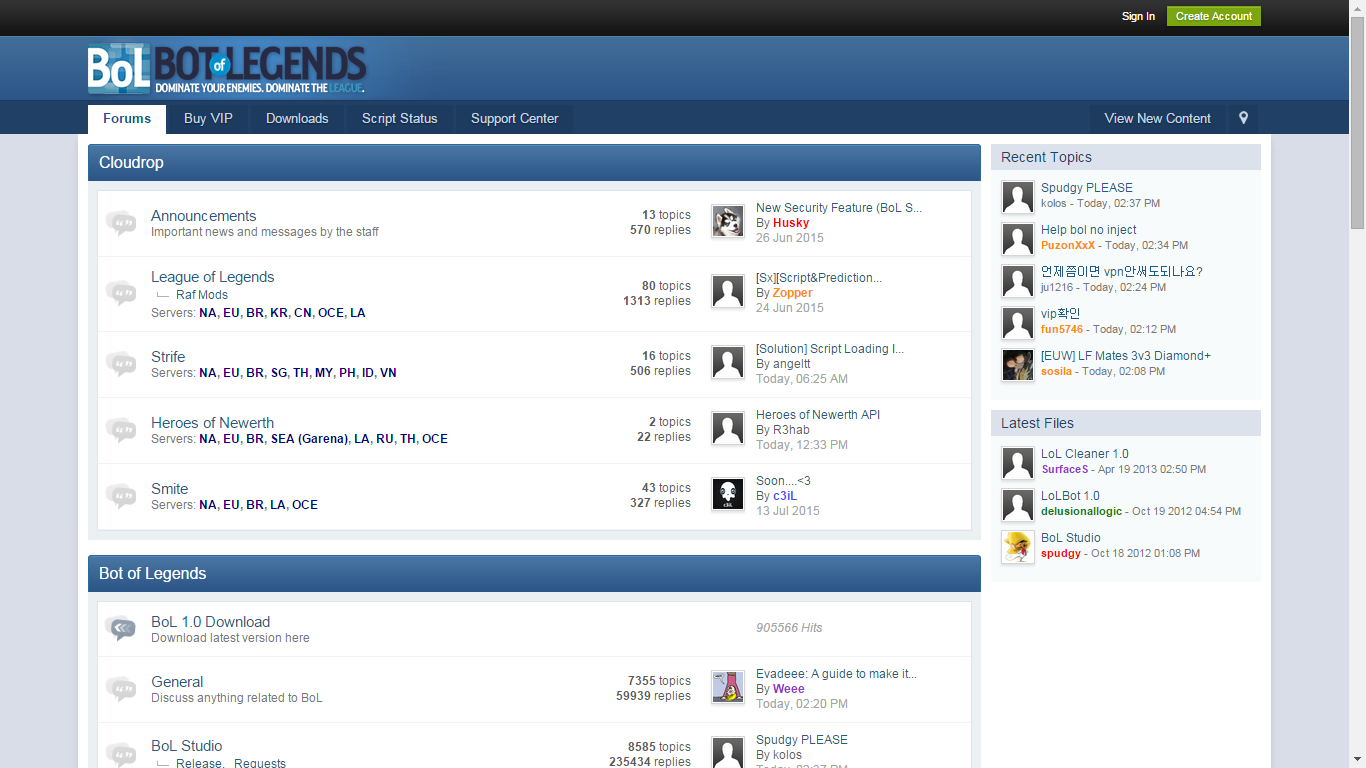 Not only is this forum about League of Legends, but it also includes discussion about Bot of Legends, which is a legal bot that you can install for added functionality in-game. (You can also download the bot from the website!)
This forum also boasts a matchmaking subforum, which is exactly what it sounds like. If you're looking for someone to queue up with, this is the place to go to form what could become your dream team.
6. SoloMid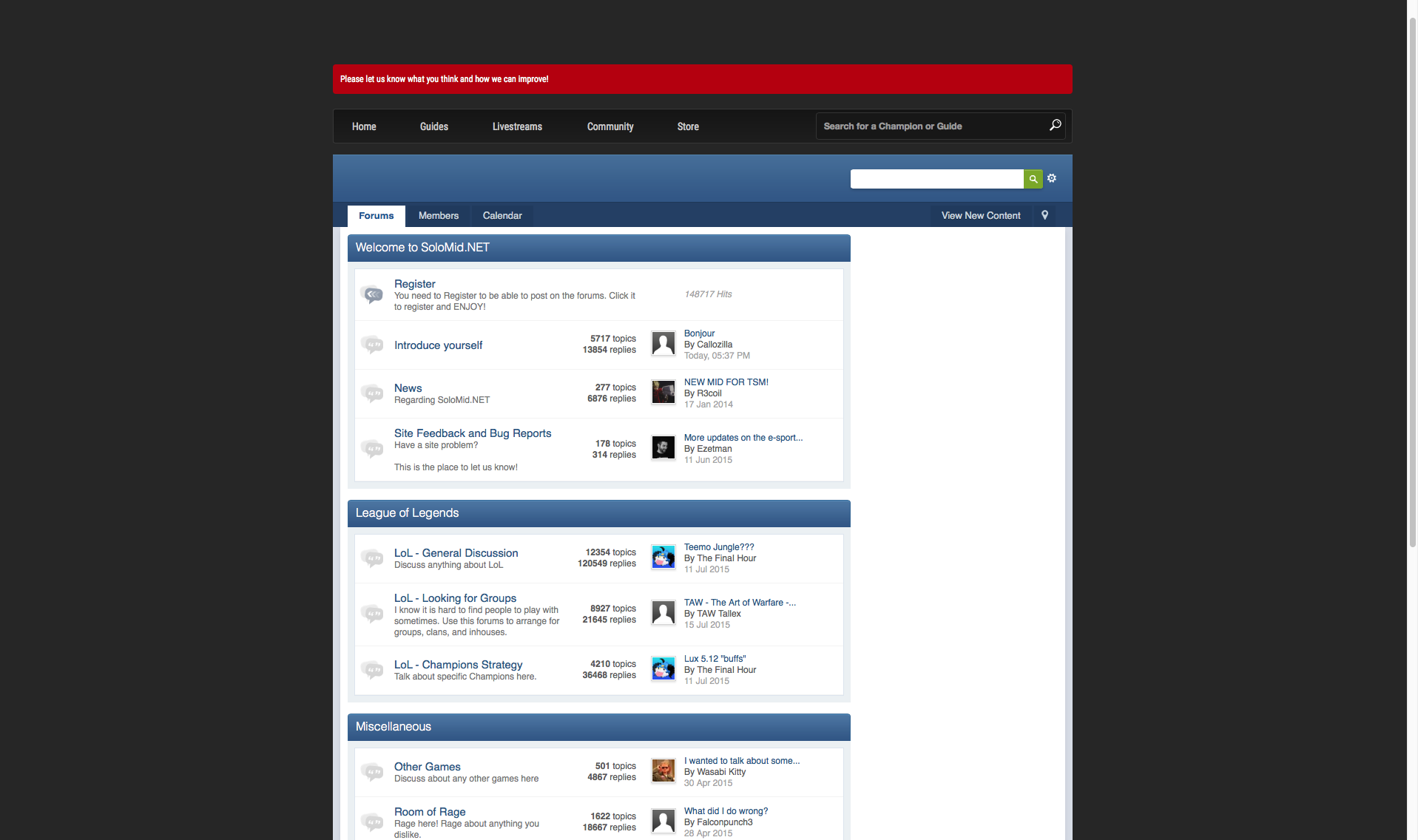 As part of the SoloMid Network, this forum holds quite a few gems. If you're looking for fellow League players to queue up with, there's a subforum for you. If you're looking for some tips about specific champions, there's a Champions Strategy subforum for you. Heck, if you don't want to talk about League for some reason, there's a subforum for that, too (two, actually, if you want to get more specific).
And finally, there's also an option for all you streamers out there – if you're looking for streams to watch or if you're looking for people to watch your streams, there's another subforum for that! These forums provide a safe and comprehensive environment in which you can make new friends or simply increase your knowledge about the game itself.
5. MMO-Champion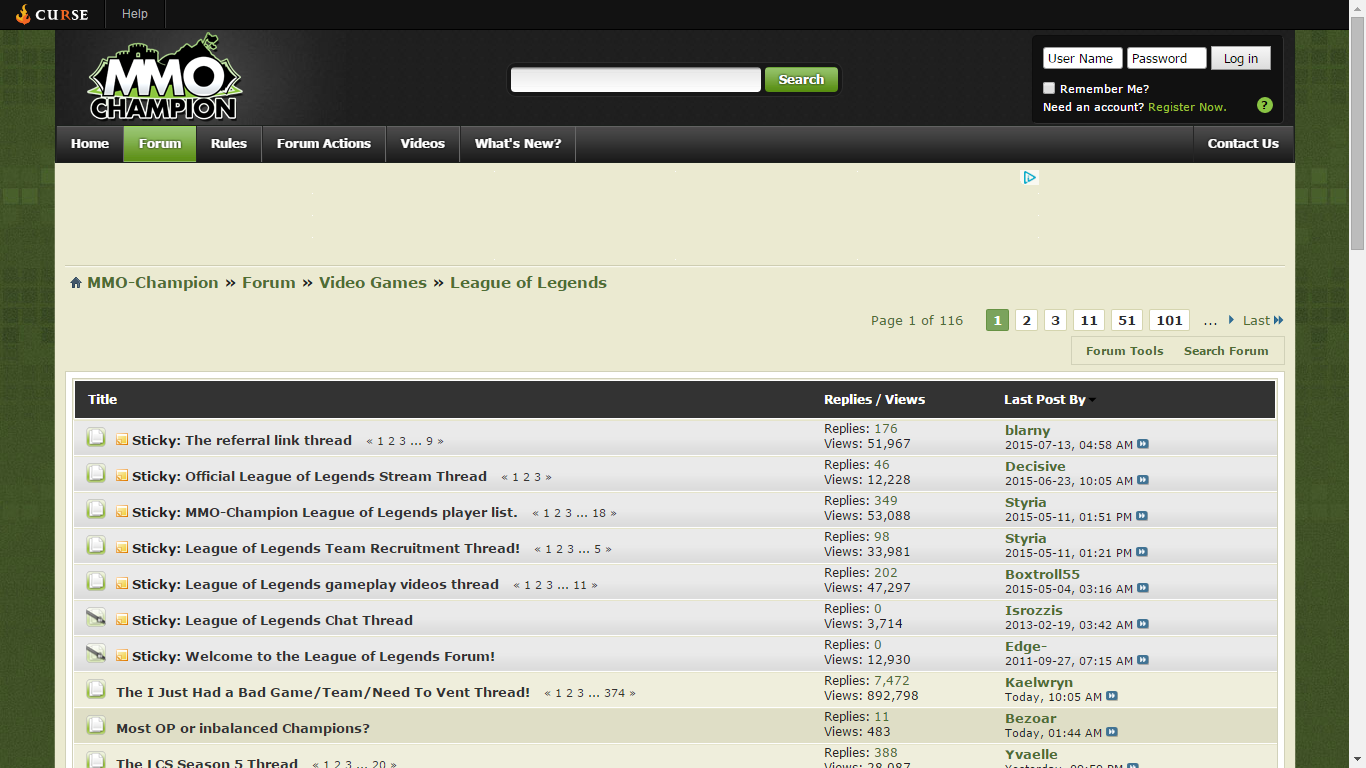 Along with some interesting polls and a very user-friendly interface, this forum is your typical, down-to-earth place to come discuss League-related topics. There's even a thread for you to vent if you've had a bad solo queue, and plenty of users to respond if you post a thread asking for help of any kind.
This forum is fairly active, so if you're looking for an easy-to-use, almost-instantly gratifying online community, MMO-Champion is a good place to try. Not to mention that the rules are strict enough to keep the environment very safe and friendly, but relaxed enough for you to have a great time.
4. LiquidLegends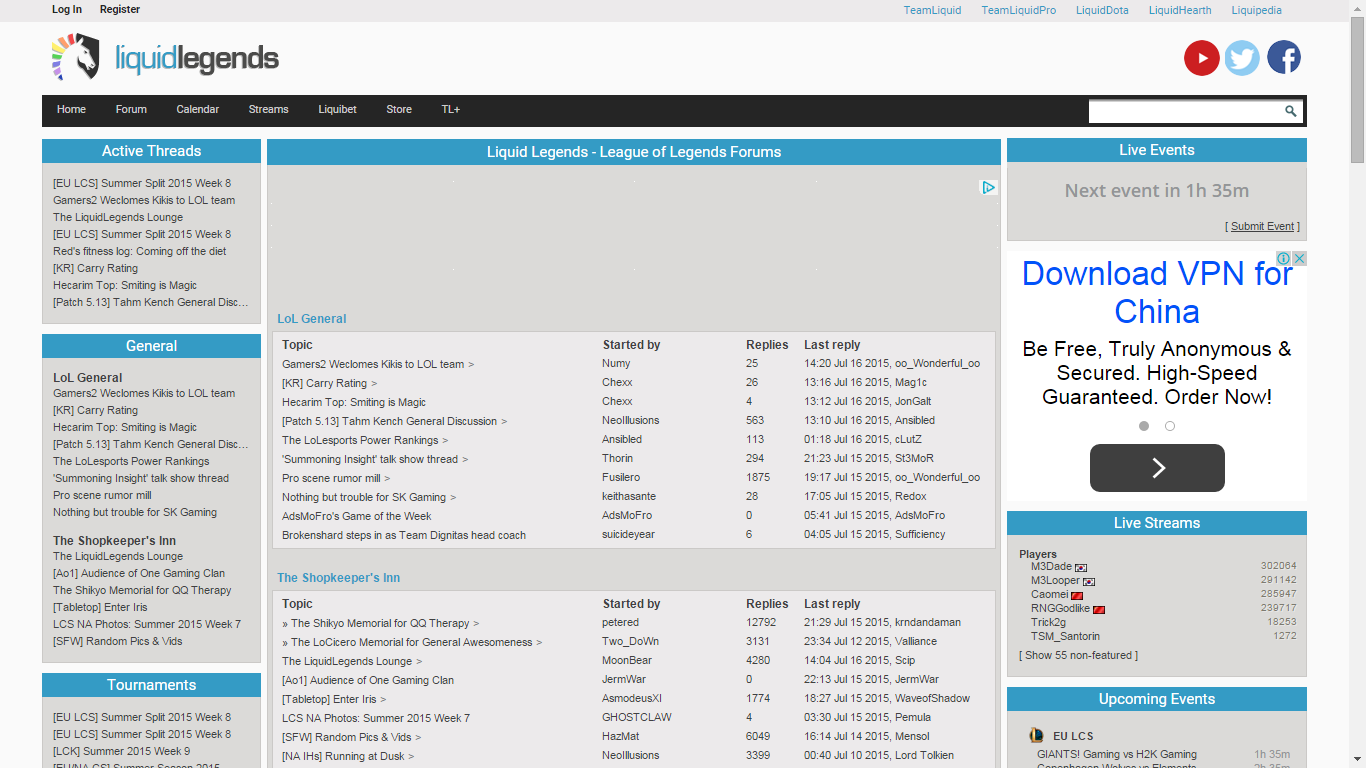 If you're looking for a forum that has quite a bit of everything, go to Liquidlegends – it's Team Liquid's official website, and as such it's very well-maintained and everything's easy to find.
Liquidlegends has up-to-date information about pro LoL tournaments as well as subforums dedicated solely to strategy and professional players and teams, which I found particularly helpful. Something else I really enjoy is that in the sidebars you'll find which live events are currently happening as well as countdowns to the next ones, and you'll also find a list of live streams that you can watch.
If that's not enough, there's also a slew of community forums in which you can partake. Want to talk about politics, anyone?
3. MOBAFire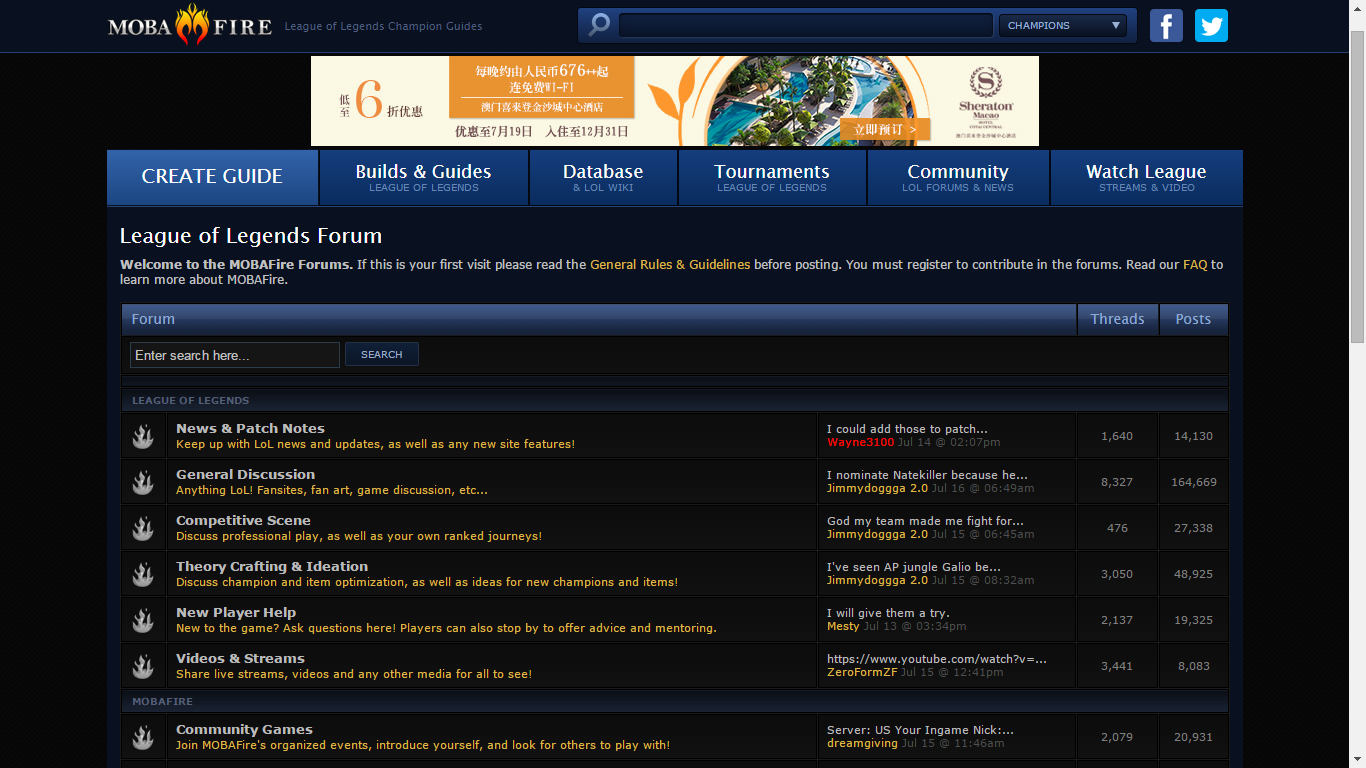 MOBAFire is a website solely dedicated to League of Legends, which means you'll find all sorts of things there – MOBAFire-hosted tournaments, in-game build guides, detailed champion information, and, of course, a very helpful community of LoL players.
The MOBAFire forums offer something for everyone. Whether you're looking for some cool fanart or up-to-date LoL news or you simply want to discuss something League-related, MOBAFire is a safe and friendly place to do so. The website also has an award system for active forum members, which adds an element of fun to the online environment.
There are also plenty of high-tier members on MOBAFire, which makes joining these forums a very unique and enriching experience!
2. Reddit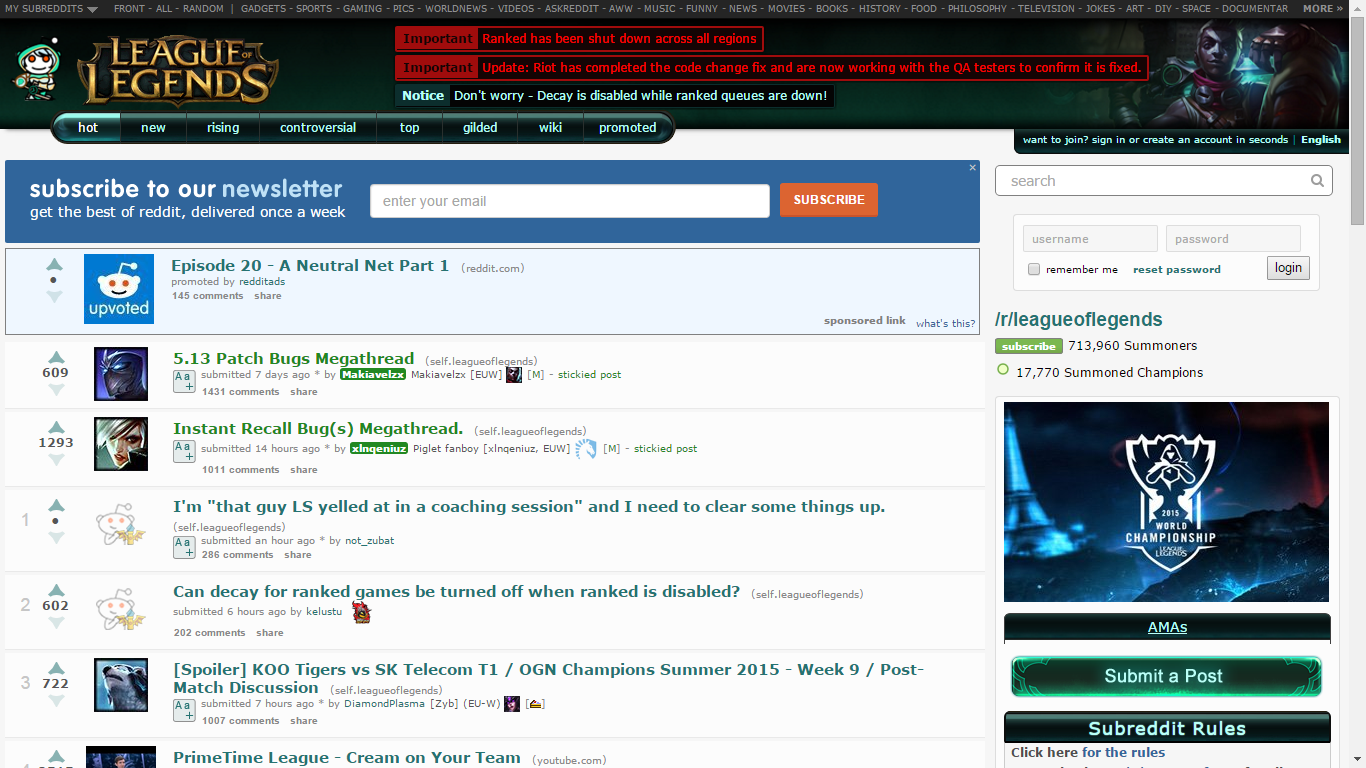 Let's be honest: if you want to talk about forums, Reddit's probably the first place you'll go. With one of the easiest-to-use interfaces for an online forum, combined with its upvote and downvote functions, Reddit hosts one of the most interactive League of Legends forums in the e-scape. There are gobs of consistently-active members, so there's always new material to read through and vote on.
Although things can get a little hectic and maybe a little toxic at times, Reddit's r/leagueoflegends has some of the most up-to-date information about LoL. Looking for updates on bug fixes? Got it. Want to keep yourself posted on the latest LoL esports scene? Got it.  Memes, trolls, lots of fun? Got those, too.
1. Official League of Legends Boards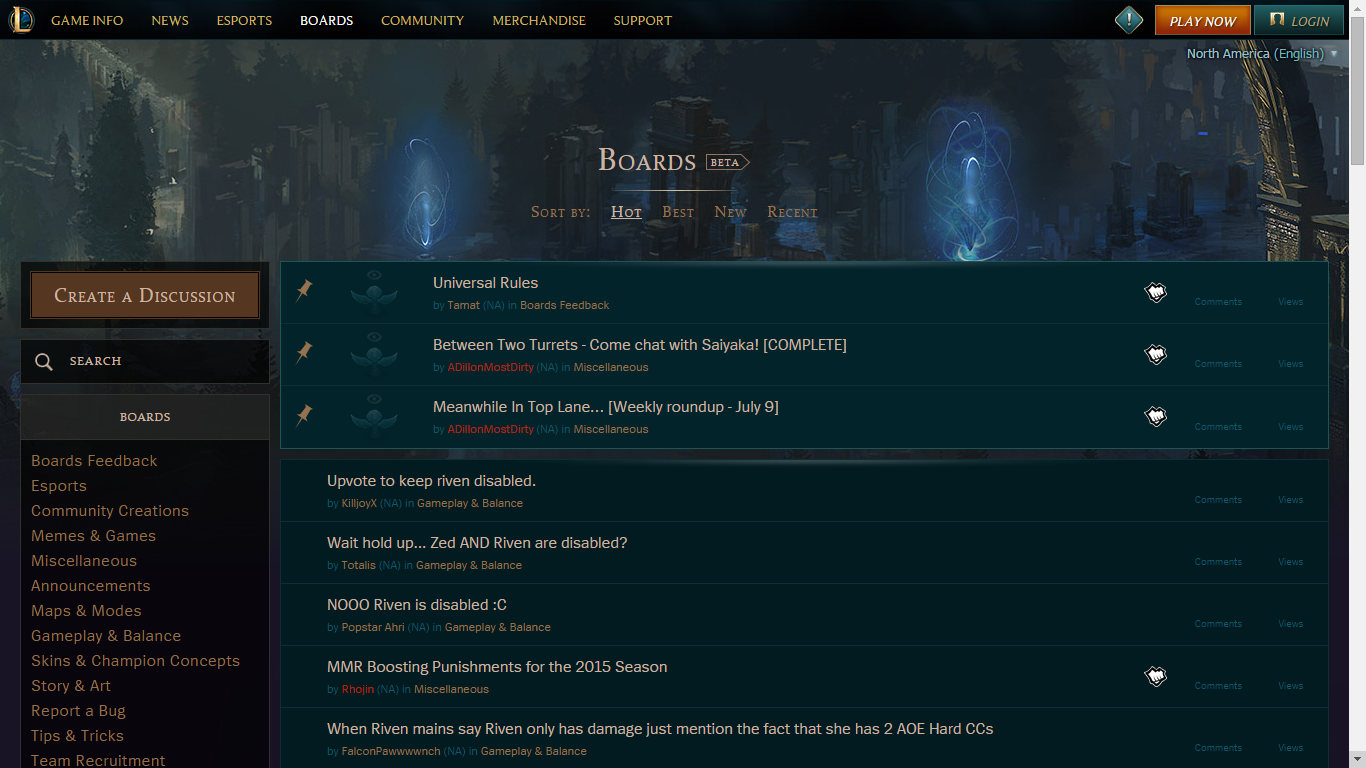 Need I say more? These boards are quite literally where it all began; on the official Riot boards, you'll find everything from video links to concept discussion to in-game interface suggestions to fanart, and the list goes on and on. There's even a Memes & Games subforum if you're into that kind of thing.
Come take a peek at these boards, and you will definitely not be disappointed. An added bonus is that you don't have to make a new account on the website to post in these forums – all you need is your League account information and you're all set!
You are lonely no longer, because now you have friends and (almost) a family.
Whether you're looking for someone to play League with or simply yearning for some healthy discussion about the merits of Riven in top lane, there is surely the forum that's best for you. Come join the huge online community of League players and experience a whole new side of League of Legends!
While you're searching, maybe you can also learn a thing or two about what League has to teach you or remind yourself of some of the craziest things that have happened in League history – you know, so you can discuss all those things in whichever forum you choose.
Related Articles
10 Awesome Games Like League of Legends
10 Most Famous League of Legends Players
League of Legends: 10 Common Mistakes Noobs Make and How to Avoid Them
Image Gallery