[Top 25] Best Medieval Games (Ranked Fun To Most Fun)
Updated: 19 Mar 2023 5:36 am
"This is the 16th siege this month"
25. Pentiment 
November 15, 2022 (Xbox One, Xbox Series X and Series S, Windows) 
Pentiment is a 2D role-playing puzzle game set in the Duchy of Bavaria in the 16th century. The role of the player is to investigate several murders that have happened in the fictional town of Tassing. It is in the hands of the player to decide who is guilty of these crimes. 
The art style of this game is exceptionally beautiful. The scenes themselves look like they are from a medieval manuscript. What sets this game apart from other puzzle games is that there is more of a focus on talking to other characters in the game to gather clues and information about recent events. Though you do have to listen closely to what everyone is saying and make sure that their stories add up. Another interesting aspect of this game is that time does matter. If you spend too much time on one lead the other leads will then have a chance to get away. So be very picky with your pursuit. 
Discover 16th-century Europe through the eyes of master artists in Pentiment, a world brought to life through illuminated manuscript-inspired art and early printed books.
Explore the tales and mysteries of the Bavarian town of Tassing and Keirsau Abbey, meeting a diverse cast of characters, as you select different academic and social backgrounds.
Navigate through a time of significant religious and political upheaval, where your decisions can shape the future of the community for generations to come, and witness the effects of your choices unfold.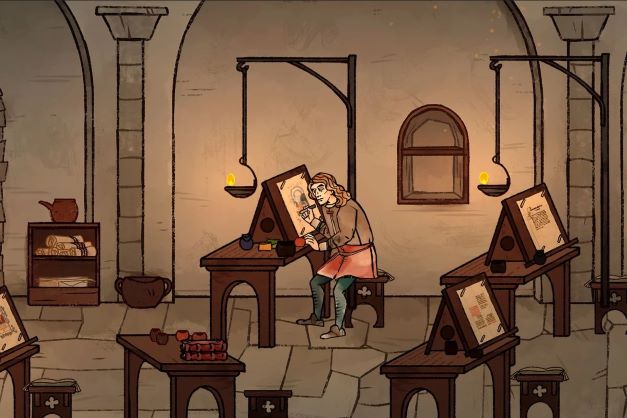 You just might be rewriting history.
Fun Factor: 34/100
24. Albion Online 
July 17, 2017 (Android, macOS, GeForce Now, Linux, iOS, Microsoft Windows, Mac operating systems)
Albion Online is a free-to-play sandbox MMORPG. Set in a medieval fantasy open world where players can do whatever they want. In Albion Online, the player is not restricted by any classes and the player's class is defined by the equipment they are wearing, which can be easily switched, offering nearly limitless possibilities.
Albion Online is designed to be a player-driven open world with its own player-driven economy, where most of the in-game items are made and traded by the players. There are dozens of resources available throughout the world which lets players make just about anything they want through the game's extensive crafting system. 
In terms of combat, the player can choose to fight against monsters in the open world and dungeons to gain XP, or you can fight against other players in the open world designated PVP areas and PVP arenas. 
In the player-driven sandbox MMORPG Albion Online, almost all of the items—including weapons and armor—are made by players from materials they find in-game and trade on regional markets.
Players may test their abilities and employ strategy, tactics, and specialties to prevail in high-risk, high-reward full-loot engagements in Albion Online's variety of PvP combat choices, from single to massive clashes.
Players in Albion Online may join guilds, stake out areas, and fight in huge open-world conflicts to fortify their base of operations and vie for honor in the Crystal League and on a global leaderboard.
In Albion Online, players can travel through the mythical Roads of Avalon to find new challenges, face formidable foes, and construct their own Hideout. They can also explore five different biomes, gather resources, participate in randomized solo, and group dungeons, and explore five different biomes.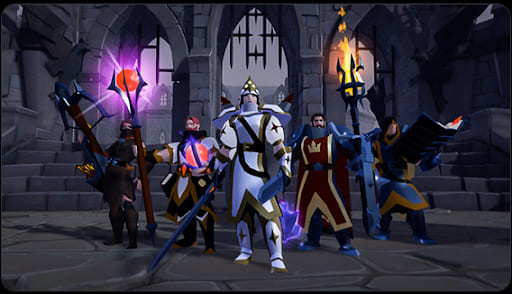 Take the fight against mythical beasts with you and your friends!
Fun Factor: 39/100
23.Tavern Master
June 24, 2021 (Microsoft Windows, Linux, Mac operating systems)
In Tavern Master, the player takes the role of a tavern manager. The player is tasked with preparing food and drinks, serving the customers and growing their tavern business. 
This is a fun and hectic virtual business simulator. You begin the game by building a small tavern and hiring some staff. You are constantly on the go making sure your customers are satisfied, decorating, and growing the tavern by adding new furniture, expanding the menu, and checking your income. Many challenges may arise throughout your playthrough such as angry customers and unexpected events. 
Establish a kitchen and hire chefs to provide diverse food options while ensuring an adequate supply of ingredients to avoid dissatisfied customers leaving.
Organize special events to attract customers with specific food and beverages
Employ musicians to get more customers and make keep customers entertained while waiting on a drink.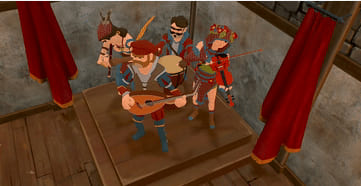 The local village band!
Fun Factor 40/100
22.Crusader Kings III
September 1, 2020 (Microsoft Windows, macOS, Linux, Xbox Series X/S, PlayStation 5)
A classic within the genre, Crusader Kings III follows its predecessors after their huge success. Crusader Kings III is a grand-strategy RPG game set in medieval times where the player takes the role of a monarch and must navigate the political, military, and economic landscape of the Middle Ages to build and maintain their power and prestige.
You get a selection of nations to choose from Europe, Asia and Africa to pick as the country you will rule over. In addition to commanding their forces in war, players must govern their domains and vassals, create alliances and participate in diplomacy. Players may interact with hundreds of different people from the game's dynamic character system, each of whom has their own personality, motives, and goals.
Build your dynasty through the Middle Ages by claiming lands, titles, and vassals, and continue your legacy with new playable heirs in a game that starts in 867 or 1066.
Explore a simulated world filled with historical characters and participate in secret love affairs, betrayals, executions, and influences in a game that allows you to play a role in shaping the outcome.
Conquer and rule various counties, duchies, kingdoms, and empires in a vast medieval world stretching from the Nordic lands to the Horn of Africa and from the British Isles to Burma.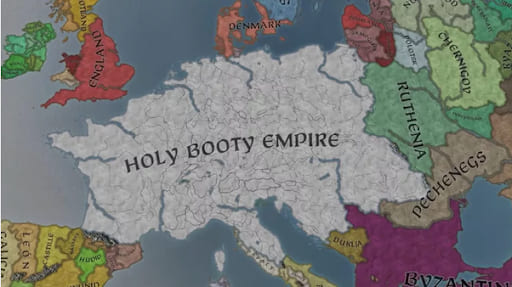 The Holy Booty Empire holds dominion over Europe!
Fun Factor: 44/100
21. Travelers Rest
July 28, 2020 (Windows, Linux)
Travellers Rest is a tavern management game. Don't be fooled by its cute look though, this game can get very stressful (In a fun way). You play as a tavern owner where your job is to serve your customers with food and drink, keep the place tidy and upgrade your tavern.
Apart from your tavern you also will spend a good portion of your time outside your tavern gathering resources by cutting down trees and mining iron. You can then use the materials to make new furniture for your tavern, which will help you get more customers and increase your revenue. Adding decorations to your tavern will also satisfy your customers giving you a better reputation. 
In Travellers Rest, you can discover, craft, and customize food, drinks, and items by leveling up and spending points in six technology trees including nature, building, cooking, brewing, socializing, and magic.
Construct and oversee your very own fantasy tavern by personalizing it with furniture, aesthetics, adornments, and entertainment in order to enhance its reputation and earn rewards that open up new possibilities.
In Travellers Rest, plan and prepare to meet customer demands by creating seasonal food and drink, anticipating the weekend rush, and being ready for big visitors such as royalty or famous bards.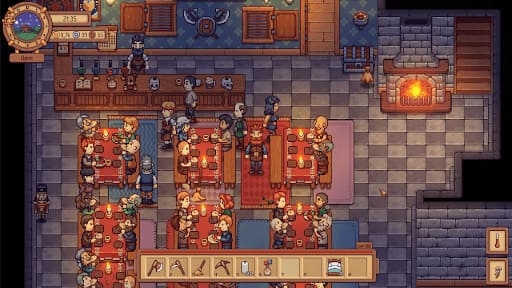 A full house today!
Fun Factor: 47/100
20.Middle-earth: Shadow of War
September 27, 2017 (PlayStation 4, Xbox One, Xbox Cloud Gaming, iOS, Windows)
Middle-earth: Shadow of War is an open-world action role-playing game set in J.R.R. Tolkien's Middle-Earth. The game follows the journey of Talion, a ranger who has been resurrected from death by a spirit of vengeance, as he seeks to defeat the dark lord Sauron and his armies. 
Shadow of Far has many interesting gameplay mechanics such as the nemesis system. The nemesis system makes enemies unique to your game and they will remember what you did to them. You are also able to brainwash orcs and recruit them to your own army. These orcs can later be used to conquer fortresses scattered along the map. 
Penetrate enemy territory to build your army, capture fortresses, and exert control over Mordor from within.
Get the full experience of how the nemesis system creates unique personal stories with every enemy and follower.
Brace yourself against the full might of Lord Sauron and his Ringwraiths.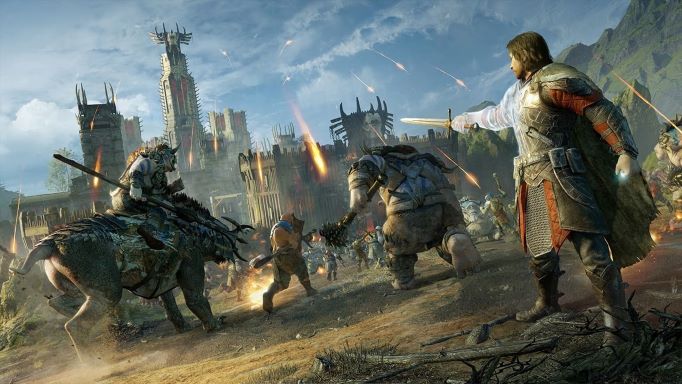 Your army of orcs attacking a fortress.
Fun Factor: 50/100
19. Kingdom Two Crowns 
December 11, 2018 (Android, Nintendo Switch, PlayStation 4, Xbox One, iOS, Microsoft Windows, Linux, macOS, Classic Mac OS)
Kingdom Two Crowns is a side-scrolling strategy and resource management game. The player takes the role of a monarch whose goal is to build, expand and defend their kingdom against hostile invaders. 
With a unique two-dimensional take on the genre, Kingdom Two Crowns offers some interesting and fun mechanics that can easily hook you into the game. I really loved hiring the local villagers I found across the map and assigning them certain jobs, for example, you can hire builders, archers, and farmers. Farmers will gather crops and grow food, builders will build defenses such as walls, and archers will hunt for food and at night occupy the walls to defend against the attackers known as the "Greed." 
The soundtrack in Kingdom Two Crowns is superb with a very mellow, calming vibe. It makes the atmosphere genuinely nice and very pleasing to just sit there and enjoy it.
Recruit loyal subjects to build a mighty kingdom and finally put a stand to defeat the Greed once and for all!
Explore a plethora of environments and discover hidden treasures and secrets.
Enjoy the game with another player as it supports cooperative mode.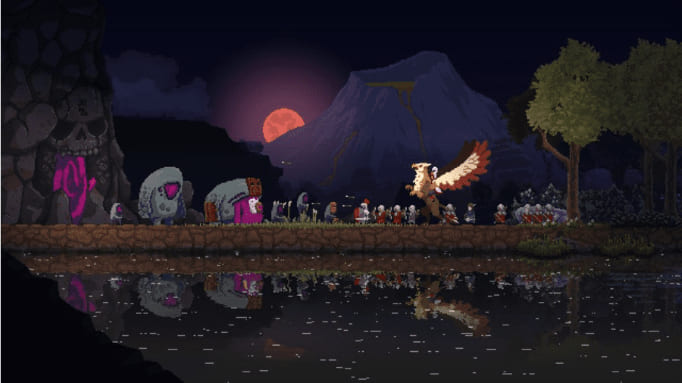 The war against Greed rages on!
Fun Factor 52/100
18. For Honor
February 14, 2017 (Microsoft Windows, PlayStation 4, Xbox One)
For Honor is a third-person action fighting game that takes place in a medieval setting. The player can choose from one of the five factions Iron Legion, the Warborn, the Dawn Empire, and the Outlander. Each faction having their own campaign. 
For Honor places a huge emphasis on combat and it is mainly what the game is about. There are 32 unique and customizable heroes, each coming with their own unique skillsets. There is a lot to grasp from this game's combat system and the player will need to learn how counter, dodge, parry, and combos to master the art but engagements are extremely exciting once you do, but of course there is so much more to it. Most satisfying of all are the deadly cinematic kills you can land on an enemy for that quick dopamine rush. Despite the steep learning curve the combat of this game really makes it one of a kind. 
Enter this chaotic world as either a Knight, Viking or Samurai. 
Personalize your Heroes by selecting from a vast array of weapons, emblems, and additional items to make the battle unique to you.
Experience growth and improvement with 18 Heroes, 18 maps, advanced PvP and ranked modes, and an abundance of gear items to choose from.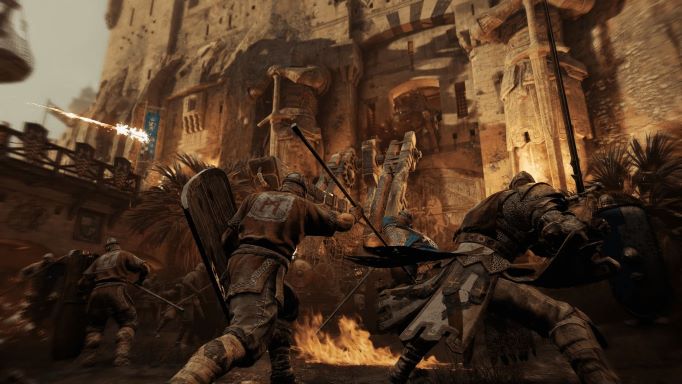 Experience some truely epic Medieval battles! 
Fun Factor: 56/100
17. Black Desert
14 July 2015 (Windows, PlayStation 4, Xbox One, Android, iOS, iPad)
Taking place in a fantasy medieval world this game is a fast-paced, action-packed MMORPG. You can customize your own character to your heart's content and take part in massive PVP online battles. There are 26 classes available to choose from, each coming with their own unique abilities offering a different play style. The world that Black Desert takes place in is huge. It is filled with a diverse plethora of terrains and landscapes. It can take over an hour to get from one side to the other.     
Overall, Black Desert is absolute eye candy, the landscapes, effects, and especially the characters look incredibly beautiful. 
Create unique characters with limitless customization options.
Join forces with powerful guilds to conquer the battlefield and claim victory, earning lordship, resources, and taxes in large-scale PvP wars.
Engage in fast-paced, non-target combat that requires quick reactions and precise control for an immersive MMORPG experience filled with dynamic combos.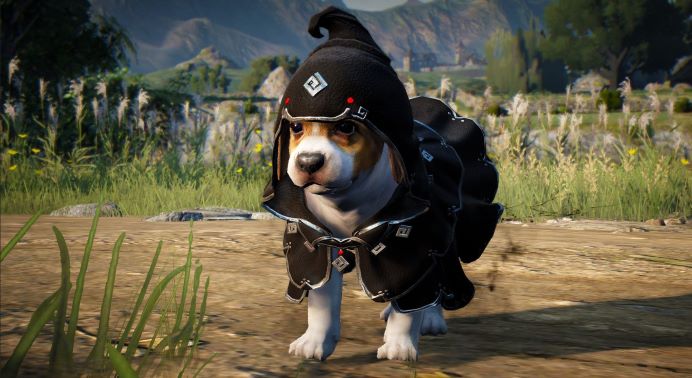 You can even get some badass looking pets to join you on your journey!
Fun Factor: 60/100
16.Graveyard Keeper 
August 15, 2018  (Nintendo Switch, Android, PlayStation 4, Xbox One, iOS, Microsoft Windows, Linux, macOS)
As you might guess from the title of this game, the player takes on the role of a graveyard keeper, who (as you might have guessed) takes care of a graveyard. You as the player are tasked with managing your business, gathering resources, cleaning the graveyard, and doing tasks for the people in the village. Maybe not the most wholesome but it sounds simple enough, though things do take a darker turn.
Graveyard keeper is a game that does not take itself too seriously. It has a nice contrast between its dark sense of humor and its grim setting. For example, one of the first things the game lets you do is extract flesh from a corpse that can be used to make burgers. Later these burgers can be sold at the inquisitor's witch-burning festival. 
The questline is relatively simple and easy to complete. The story is very fun to follow with lots of humorous moments along the way. 
Collect valuable materials, craft new items, and turn your graveyard into a successful business by exploring the surrounding areas for resources.
Choose between grinding up corpses for sale to the butcher or embarking on quests in a world filled with dead bodies.
Embark on dungeon adventures to discover new alchemy ingredients, potentially causing harm to nearby villagers, in this complete medieval game.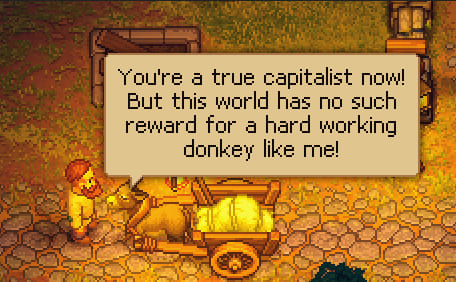 There is even a communist donkey....
Fun Factor: 63/100
15. Conqueror's Blade 
May 30, 2019 (Windows)
Conqueror's Blade is a multiplayer action strategy game set in a medieval world. From a third-person perspective, you play as a warlord and can take part in huge, frantic, fast-paced battles against other players with an AI army under your command. 
With a huge army of AI troops under your control the fights seem very chaotic at first but once you learn how to use the commands, the battles feel incredibly fun and still very chaotic. There are many units available such as archers, spearmen, and cavalry and it is up to the player to issue orders to those units in battle. 
Another PVP element of this game is fighting over territory across the world. You can gain control over enemy villages, towns, and castles to claim them as your own. Once done you can earn money from taxes and generate resources, though you still must defend your territories from other players.
Fight with a team to capture castles in Siege Battles, with real-time unit control and limited-time PvP/PvE.
Customize your character and arm yourself with powerful weapons, each character brings in a unique playstyle, attacks, and abilities for tactical advantage in battle.
Join Houses and compete in Territory Wars to claim land, build prestige, and battle hundreds of players in server-wide PvP events.
Charge into battle alongside hundreds of troops
Fun Factor: 65/100
14. Banished
 February 18, 2014 (Windows)
Banished is a strategy city-building game that takes place in a medieval setting, where a group of exiles has decided to start their own community. This game is a classic within the genre with a fantastic modding community that adds some fantastic player-made additions to the game. After a few hours of playing, it is extremely easy to get hooked by its gameplay loop.
Banished is a city-building game where players manage resources and population to ensure the town's growth and survival, focused on the lifecycle of the townspeople.
This game has no skill trees or money, where players collect resources to build structures and barter with trade vessels for annual crops and livestock, but also face the risk of disease.
There are 20 different occupations for the townspeople, requiring players to choose between various resources and balance space limitations, with no single strategy guaranteed to succeed as resources can vary on different maps.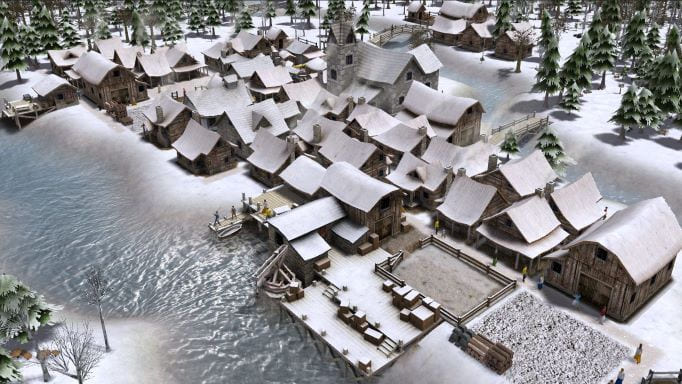 Winters can be devastating for your population.
Fun Factor: 67/100
13.Kingdoms Reborn 
November 3, 2020 (Windows)
Kingdoms Reborn is a city-building strategy game set in medieval times. The player controls a kingdom where they must gather resources, construct settlements, and build up their armies. The objective of this game is to become the most dominant force in the land.
What sets this game apart from other medieval city builders is its card system. Every few minutes the player gets a selection of cards to choose from. You can select one of these cards which lets you get bonuses for your population, build new buildings, and recruit specialized workers for your city. Without the cards, the player is restricted to only building the most basic structures like roads or houses. Over time, your number of collected Wildcards will build up so you can pretty much build anything you want. 
Kingdoms Reborn also features a huge randomly generated map and a wide variety of seven different biomes that the player can choose to build their settlement on. Depending on the area you choose to build a settlement in, the resources available will be different from biome to biome.
Choose from 3 unique factions to play, The Dutchies, The Emirates, and The Norsemen. All come with a different playstyle and appearance. 
Kingdoms Reborn card system makes sure that no two playthroughs are the same and every new game feels fresh.
Play with your friends or compete against other players in multiplayer which supports up to 12 people.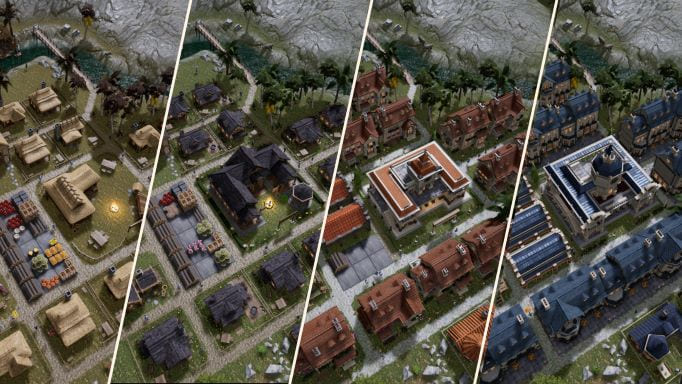 Build your Kingdom across 4 eras!
Fun Factor: 69/100
12.Medieval II: Total War: Kingdoms 
August 28, 2007 (Microsoft Windows, macOS, Linux, Android, iOS)
Medieval II: Total War: Kingdoms is an expansion to the grand strategy game Medieval II: Total War. The game takes place in the Middle Ages and players control one of four factions: England, Spain, Holy Roman Empire, or Moorish Empire. The objective is to conquer and control territories, build and manage cities, raise armies, and engage in both real-time battles and turn-based strategic campaigns.  
Introducing a new 1v1 multiplayer campaign mode, allowing players to compete against each other in a shared environment.
The game introduces four new campaigns in unique historical settings, Britannia, Teutonic, Crusades, and New World.
This expansion features 10 new units, 13 new factions, 9 new agents, 50 new buildings, 60+ new territories across four new maps, and 15 new multiplayer maps and scenarios, offering players a wealth of new content and opportunities for exploration and conquest.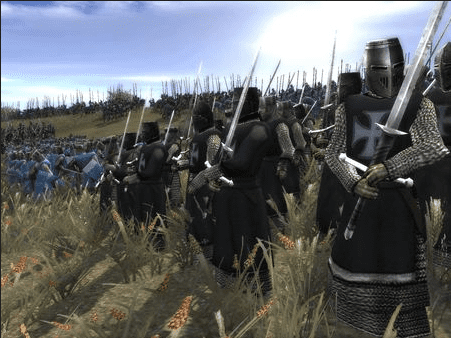 Your mighty armies standing in formation.
Fun Factor: 70/100
11.Kingdoms and Castles
July 20, 2017 (Microsoft Windows, Linux, macOS, Classic Mac OS)
This stunning-looking city building, and management game is Kingdoms and Castles. With its simple polygons and vibrant colors, the game has a really heartwarming and relaxing vibe to it. A few minutes into it and you can easily get hooked. 
You begin your game by placing down a castle and then building houses for your peasants around it. These peasants perform jobs like farming, mining, building, and chopping wood. You also have to make sure that your population is happy by making sure they have an adequate amount of food and that they have something to do like having a tavern in your town. The unhappiness of the population may result in fewer peasants wanting to settle in your kingdom. You as the ruler also need to make sure that your population is in good health by having a doctor in your town or else your subjects may fall victim to the plague. 
Apart from gathering resources and looking after your population, you also need to make sure that your kingdom is safe from dragons and Viking hordes. These can be defeated using a ballista, soldiers, and archer towers. 
Strategically layout your town to increase happiness and attract new residents, balance taxes to fund your castle, manage food, health, and morale, build churches and taverns, and efficiently collect resources to grow and thrive.
Defend your kingdom from Viking invasions by using towers, walls, and weapon emplacements, and experiment with different layouts to protect your kingdom.
Kingdoms and Castles takes place in a beautiful dynamic world with a procedural cloud system, a realistic season cycle, and natural tree growth, allowing you to responsibly manage your forests based on your needs and gather resources.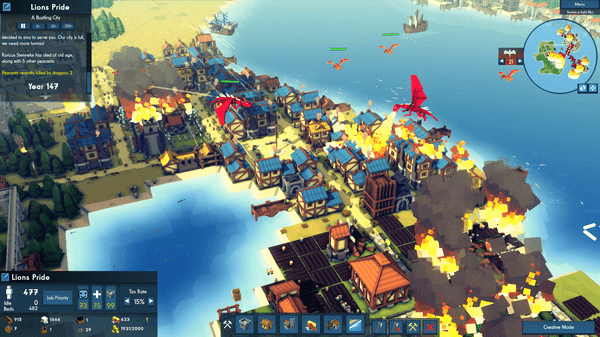 A dragon attack!
Fun Factor: 71/100
10.Wartales 
December 1, 2021 (Windows)
A unique take on the strategy genre, Wartales is a turn-based strategy RPG game set in medieval times. It features an authentic playstyle that I have personally never seen anything like before. Your goal is to make as much wealth as possible with your mercenaries in order to survive in this post-apocalyptic medieval land.  
Wartales has many fun game mechanics. From combat to survival elements, it helps to keep the game feeling interesting. From time to time you need to make sure that your party sets up camp to rest. While in camp you can craft items, feed your party, and restore their health. 
The game at times haunts you with a foreboding, dreadful yet calming atmosphere. It really paints a beautiful picture of this plague-ridden land.   
Explore and uncover the history of the world, gain notoriety, wealth, and recognition while discovering vibrant villages, abandoned mines, and forgotten relics.
Fight your way through dangerous situations using tactical turn-based combat, recruit companions with unique skills and weapons, accept contracts to defend and save the inhabitants, and collect bounties on notorious figures in your quest for wealth and recognition.
Upgrade your abilities and those of your companions through a deep RPG progression and crafting system, craft better equipment with gathered materials, and improve your camp for increased morale and efficiency.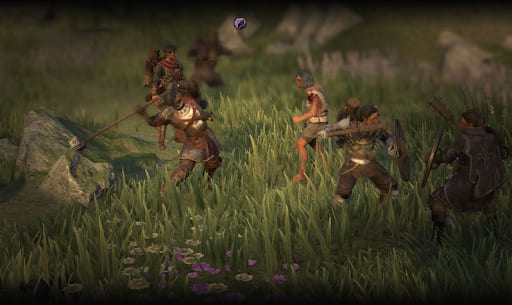 Crush (literally) your foes in a medieval post-apocalyptic hellscape.
Fun Factor: 72/100
9. Knights of Honor II: Sovereign 
Dec 6, 2022 (Windows)
Knights of Honor II: Sovereign is a real-time strategy game where you play as a monarch ruling over a nation in Middle Age Europe. With the use of diplomacy and your armies, your goal is to become the most dominant force on the continent. 
One of the key features of the game is its diplomatic system, which allows players to navigate complex political relationships with other kingdoms. Players have the ability to forge alliances, wage wars, and negotiate treaties, giving them a wide range of options for interacting with the other kingdoms in the game.
In addition to its robust diplomatic system, Knights of Honor also features elements of city-building, where players are tasked with constructing and managing their own kingdoms. This includes building and upgrading structures, managing resources, and developing their economy. The game also has a strong emphasis on military strategy, with players leading their armies into battle and engaging in battles against other kingdoms.
Play in online multiplayer with up to 6 players, including co-op and various game modes like teams and free-for-all.
Featuring over 200 historical kingdoms and 300+ provinces to conquer. Build a strong economy and military, choose from over 100 units, and assemble armies to defend your borders and attack enemies.
Command and lead up to four armies in dynamic real-time strategy battles and sieges.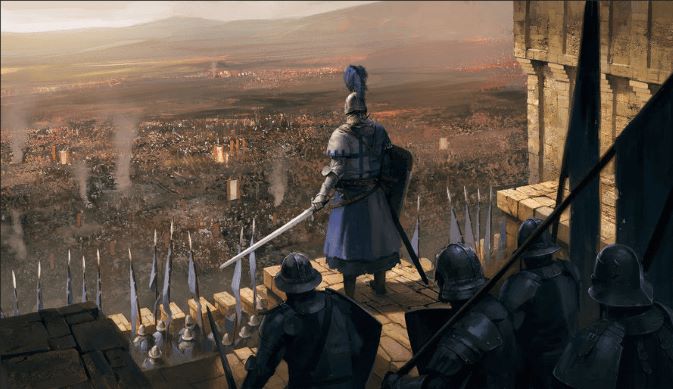 Conquer the world!
Fun Factor: 73/100
8.Going Medieval 
June 1, 2021 (Windows, Linux)
This very addictive and fun gem called Going Medieval is a colony/city-building simulator with some survival aspects.  The player starts off their game with only a handful of villagers and resources. From scratch, you have to build your kingdom by collecting resources found around the map. To ensure the prosperity of your people you must develop your settlement and research new technologies to survive this harsh land. The player must also prepare to defend their kingdom against raiders and rival settlements. 
Going Medieval is a city-building game where players build and defend a settlement that can grow from a hut to a castle.
Build defenses, craft weapons, and battle raiders and rival settlements for survival.
Apart from raids your subjects also need protection from hunger and the elements.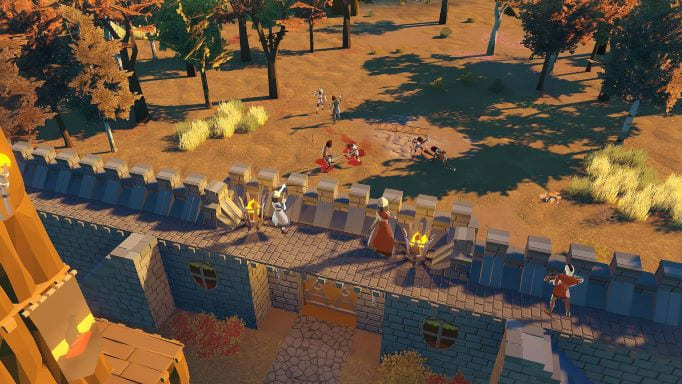 Raiders attacking a settlement.
Fun Factor: 75/100
7. Gloria Victis
June 9, 2016 (Windows, Linux, Mac)
Gloria Victis is an open-world MMORPG that takes place in a low-fantasy medieval world. As a huge Mount and Blade fan this game felt to me like an MMO Mount and Blade, especially its combat and battles. Gloria Victis uses a fast and responsive combat directional combat system. Similar to MaB combat system, it is simple and fun. 
 Being in one of the three factions you must fight with your allies over map territory. PVP battles in this game are highly intense, where your objective is to capture castles in huge, epic siege battles with the use of equipment such as battering rams, ballistaes, and catapults. Once you make your way inside the fortress, there are several capture points you and your team must take hold of. There are also other types of game modes such as dueling.
The game also features a player-driven economy that is fueled by items crafted by the players from resources they have gathered. 
Conquer lands, siege castles, and fight for glory in a medieval MMORPG world. 
Gather resources, craft items, and cultivate crops in a player-driven economy.
Explore the world, complete quests, participate in PVE events, craft, and trade, or engage in massive PVP battles.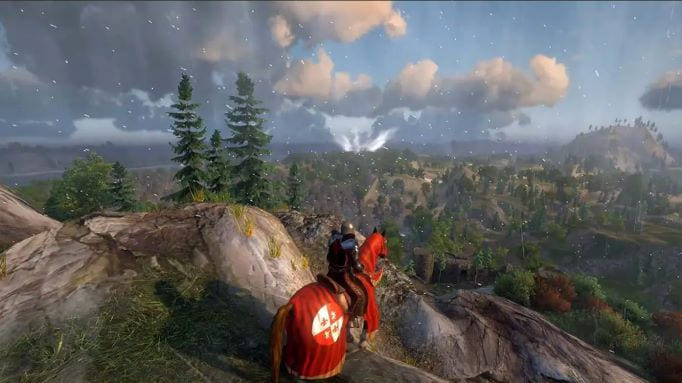 All this land ready to be conquered 
Fun Factor: 77/100
6. Medieval Dynasty 
September 17, 2020 (PlayStation 5, Xbox Series X and Series S, Microsoft Windows)
An epic survival open-world RPG set in the European Middle Ages. Medieval Dynasty is an incredibly beautiful game where the player takes on the role of a young man who must develop their skills, build wealth, and become a leader of their community. 
Medieval Dynasty is not like any other RPG, Medieval Dynasty is nearly a life simulator as it lets you do basically whatever you want. From building cities to being a simple hunter or a reckless ruler this game holds no restrictions for the player in deciding what path they may want to choose. 
The game features a complete cycle of four seasons with a day-night cycle and weather conditions.
There are over 25 different building options available, ranging from simple hay shacks to luxurious stone mansions.
Medieval Dynasty offers a comprehensive skill tree for character development.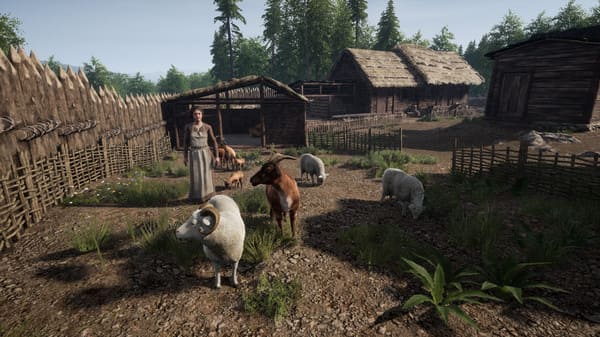 Started from the bottom now you got a homestead and some cattle
Fun Factor: 79/100
5. Chivalry 2
April 23, 2021(PlayStation 5, Xbox One, PlayStation 4, Xbox Series X and Series S, Windows)
One of the most fun and brutal medieval games I've ever played. Chivalry 2 really can get your blood pumping like no other game out there. Chivalry 2 is a medieval action combat game that in my opinion is best played in first-person mode, as it really lets you immerse yourself into some adrenaline-rushing chaotic battles. The main focus of Chivalry 2 is its combat system, which is easy to grasp, but difficult to master. One of the best gaming experiences I have ever played is the 64v64 PVP mode, a beautifully chaotic experience. 
Conquer massive battlefields with 64 players, as you engage in intense warfare, destroying castles and burning villages with catapults while causing chaos among the opposing forces.
Experience realistic mounted combat with features that make you feel like you are riding a powerful warhorse, including the capability to crush enemies with a trample, deliver powerful kicks, unhorse opponents with a lance, and engage in the intense ground and mounted melee combat.
Diverse subclass system expands four base classes to over 10 subclasses with over 30 weapons and new support items for added tactical options on the battlefield.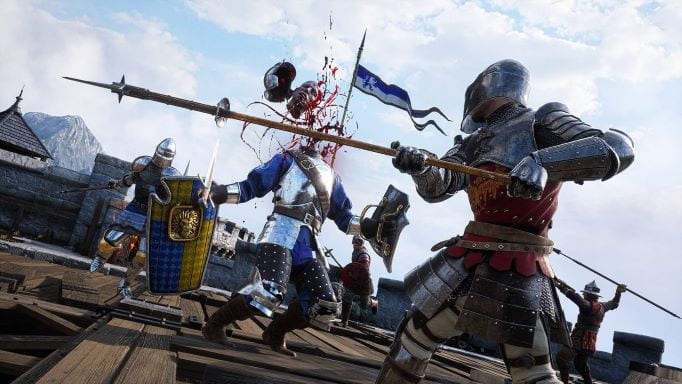 Is he ok?
Fun Factor: 84/100
4.Sea of Thieves 
March 20, 2018 (Xbox One, Xbox Series X and Series S, Windows, Xbox Cloud Gaming)
Ah yes, the ultimate pirate Xbox experience. Sea of Thieves is an extremely fun open world experience. Navigate the vast open seas aboard your ship, discover great treasures, and battle other players over supremacy of the ocean. Though you must also be ware of various dangers lurking beneath the waves. 
In Sea of Thieves players can band together to form crews and operate their ship and it is one of the main appeals of this game.  Sea of Thieves is really an immersive and fun experience like no other that lets you live your best pirate life building your own adventure, but playing it with friends brings it up to a whole new level. 
Explore a vast world with islands and kingdoms, quest for treasure, battle foes, and engage in fishing, mapping, and other optional activities.
Sea of Thieves is a constantly evolving game with new features, events, and adventures added every three months.
Embark on immersive and cinematic quests with Sea of Thieves' Tall Tales.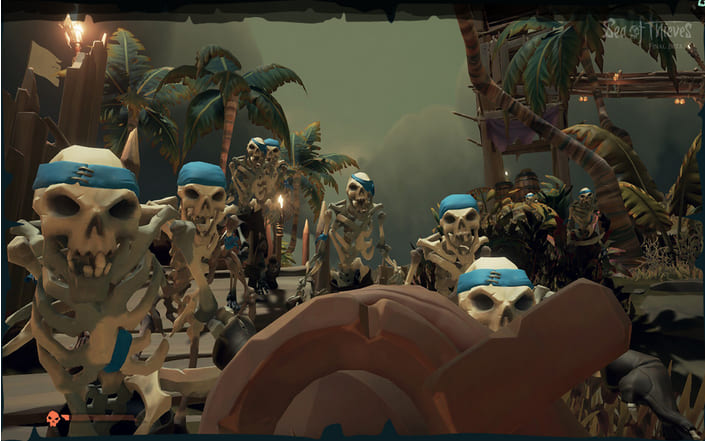 Featuring some spooky skeletons
Fun Factor: 90/100
3.Mordhau
April 29, 2019 (Xbox One, PlayStation 4, PlayStation 5, Xbox Series X and Series S, Windows)
If you're looking for some crazy heart-rushing experience. Well, then Mordhau might just be for you. Nothing is quite as thrilling as Mordhaus battle-frenzied first-person gameplay. This medieval slasher can offer countless hours of fun, as no two engagements ever feel the same. 
At first, the complicated combat system may feel a bit too overwhelming but once you get the hang of it, you will be cutting through your enemies on the battlefield. Mordhaus gore effects are extremely brutal, beheadings, spilling guts, and cutting off limbs all can be done to either you or your enemies. It is extremely satisfying landing one of these on your enemy. When it happens to you, not so much. 
There are many game modes to choose from, my favorite being the "Frontline" which is a 64-player big team battle mode. There are also other game modes such as Battle-Royale, a horde mode, team deathmatch, and 1v1 duel servers. 
Equip yourself with a massive arsenal of weapons and equipment for combat, including a greatsword, arrows from above, and fortifications for defense.
Experience intense and brutal combat with every strike felt and limbs flying as you wreak havoc on enemies.
Play with friends in cooperative Horde mode against waves of enemies or hone your skills offline against AI.
Engage in massive battles, from small skirmishes to 64-player wars in modes such as Frontline and Invasion.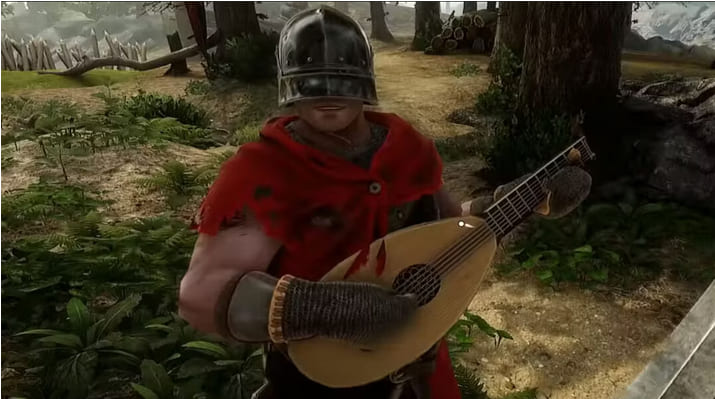 Annoy thousands of players across the world with your lute!
Fun Factor: 96/100
2. The Witcher 3
May 18, 2015 (PlayStation 5, PlayStation 4, Nintendo Switch, Xbox One, Windows)
What is there to say? It's the game we all know and love, The Witcher 3. You as Geralt of Rivia who is also famously known as "The Witcher" are on the search for his adopted daughter, Ciri, who is on the run from the Wild Hunt, a powerful and otherworldly force.
The game features a rich and detailed world, deep character development, challenging combat, and a mature and adult-oriented story that explores complex themes like politics, race, and morality. It has received widespread critical acclaim for its story, world-building, and gameplay, and for good reason is considered one of the greatest video games of all time.
Eliminate enemies with brutal efficiency as a seasoned monster hunter equipped with an arsenal of enhanced weapons, transformative potions, and deadly combat magic.
Embark on a journey through a mystical open world filled with ruins, cities, hunting grounds, and opportunities for trade and hunting across diverse landscapes.
During times of conflict, pursue the prophesied child, a powerful weapon foreseen in ancient Elven tales.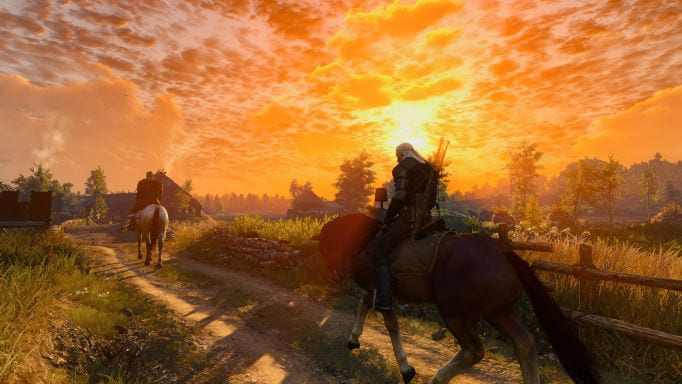 Witcher 3 offers some of the most beautiful, picturesque scenery I've seen in any video game
Fun Factor: 99.9999/100
1. Mount and Blade: Bannerlord
March 30, 2020 (PlayStation 4, PlayStation 5, Xbox One, Xbox Series X and Series S, Windows)
Oh boy, where do I begin? Personally, this is one of the most addictive and funnest games I have ever played. There is no drug stronger for me than Mount and Blade. You can very easily without even noticing pour hundreds of hours into this game. You do one task but you immediately want to do another and so on the cycle just repeats.
Mount and Blade Bannerlord is an open-world strategy RPG. The game takes place in a fictional land inspired by the medieval cultures of Eurasia. You begin your adventure as a  nobody looking to make a name for yourself by either becoming a mercenary, a vassal of a king or choosing your own path and becoming an outlaw, it is up to you to decide. Your goal is to become the most powerful leader in the land of Calradia. Do this by building your armies, recruiting and training your troops, and conquering cities and fortresses. 
One of the most thrilling dopamine-rushing gaming experiences is charging down a hill alongside my cavalry. Truly one kind of a game. 
Assemble armies, participate in politics, trade goods, forge weapons, gather allies, and oversee your lands.
Lead and battle alongside your forces in either first-person or third-person during massive real-time fights.
Challenge your fighting abilities against players from all corners of the globe in multiplayer PvP.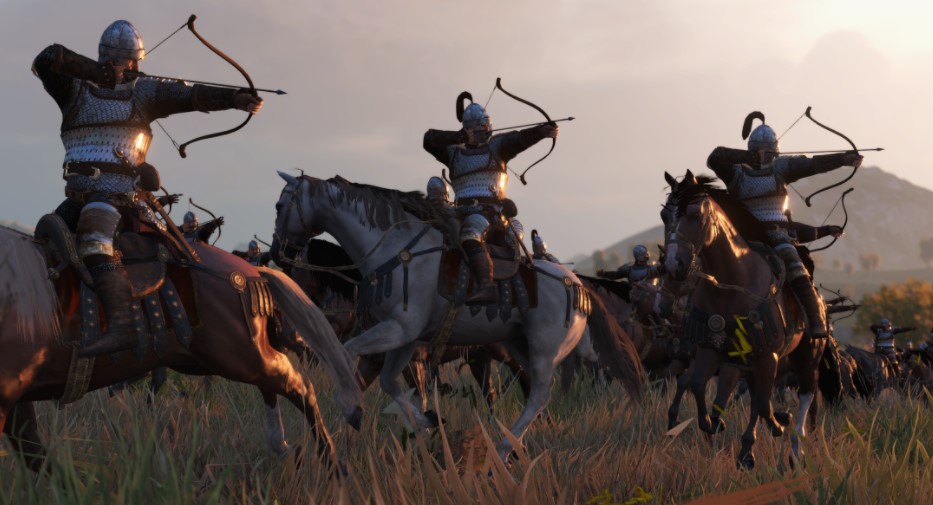 hose damned horse archers!
Fun Factor: 100/100!
If you liked this article, also check out: