Gaming platform Steam bombarded with over 60,000 refund requests per day
Updated: 03 Aug 2017 12:56 pm
Popular PC gaming platform Steam is inundated with daily requests for refunds
What qualifies for a refund?
Have you ever had to request a refund from popular online gaming platform Steam? If your answer is yes, you are not alone. In May 2017 alone, Steam was handling on average 60,000 refund requests per day.
With Steam's very generous returns policy, you can expect a full refund for nearly every reason. First and foremost, if it is less than 14 days after purchase and you have played less than 2 hours of the game, you are guaranteed a refund. However, Steam says that if you fall outside these parameters your request will still be considered on an individual basis.
Steam's refund policy applies not just to whole games, but also to in-game purchases, downloadable content, hardware, pre-purchased titles, bundles, and sometimes even gifts, so long as the recipient hasn't accepted the gift or they themselves initiate the refund. Most refund requests, if approved, will have payment returned within 7 days. This is a pretty quick turnaround.
Why does Steam offer such a great returns policy?
The great thing about Steam's returns policy is that it encourages you to try any game you might not be sure about. A personal example: I was dying to try the MMO ARK: Survival Evolved, but when I finally bought it I was disappointed to see that my PC couldn't support such a large game, so I got my refund in full. I have had other instances where I bought a game but found out I really just didn't like it.
It is a safety net for many and, at the end of the day, despite the large scale refunds, Steam is making more money than they would without this great policy. By allowing the 'try before you commit' option, more people will find that they love a game they might not have tried before.
Steam has also committed to providing continuously great customer support and this is evident by the short response times to most requests. Over the last 24 hours, as of June 7th, 2017, the typical response time for a refund is 48 minutes to 1 hour 47 minutes.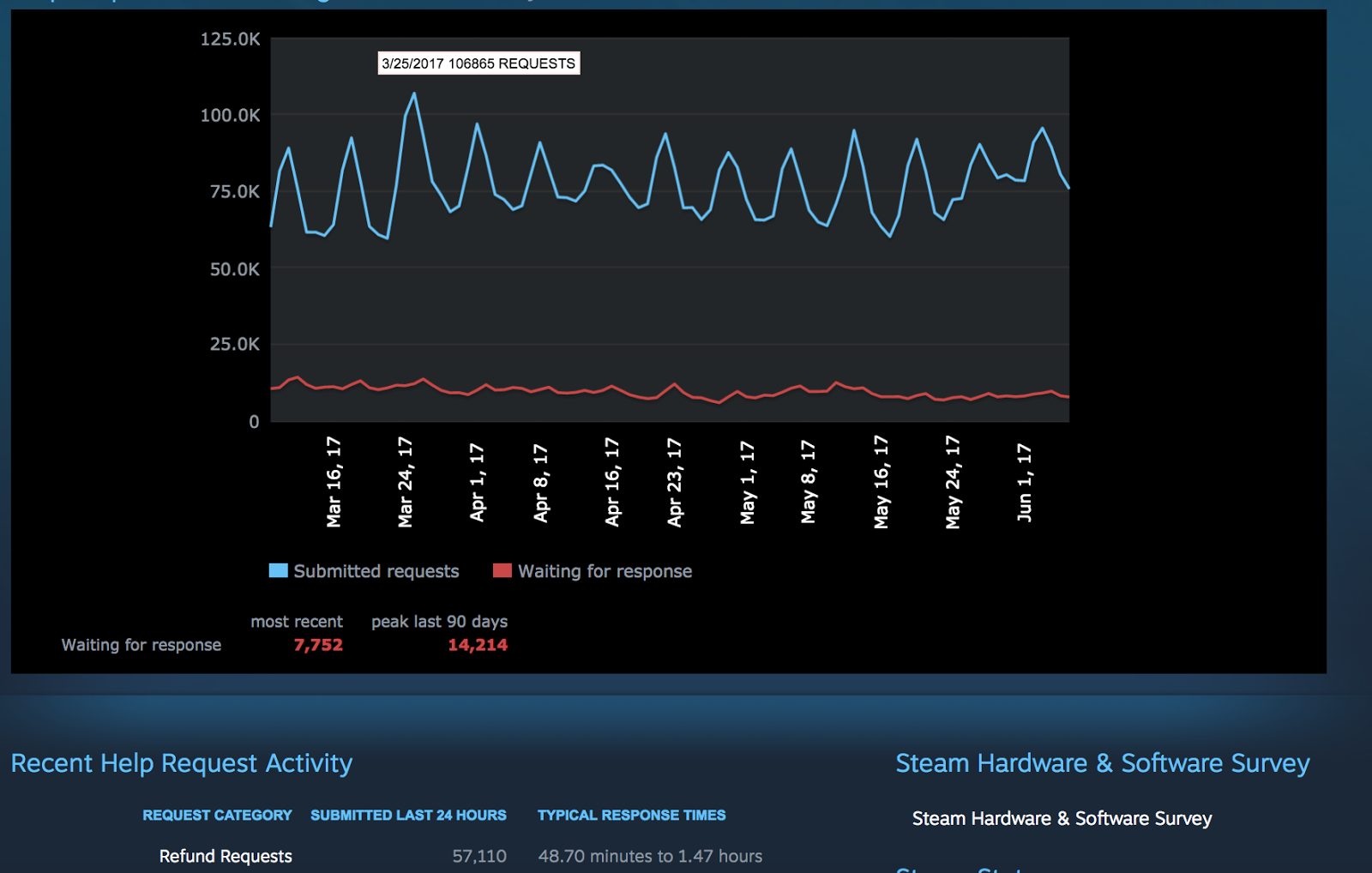 Steam have a high level of customer response.
What problems can 60,000+ refund requests cause?
On June 8th alone, Steam has had 57,110 refund requests, which is below the daily average. This could have a negative impact on smaller game developers. Shorter games could be played to completion, or near completion, within the two hour time limit and someone could still request a refund, essentially giving them a free game, as all your game stats will remain connected to your profile.
However, if a game is getting multiple refund requests, it could indicate a problem with the game worth further investigation. For example, Batman: Arkham Knight was pulled from Steam back in 2015 due to the number of reported bugs and subsequent refund requests. While it was a shame that a game had to be pulled, it shows that the gaming distributor is putting its customers before its developers to ensure that we are getting the best possible service.