Lol Best Sejuani Skins - All Sejuani Skins Ranked Good to Best
Updated: 25 Apr 2020 10:29 pm
No Way We Could Overlook Sejuani
Love Sejuani? What About Her Skins?
8. Traditional Sejuani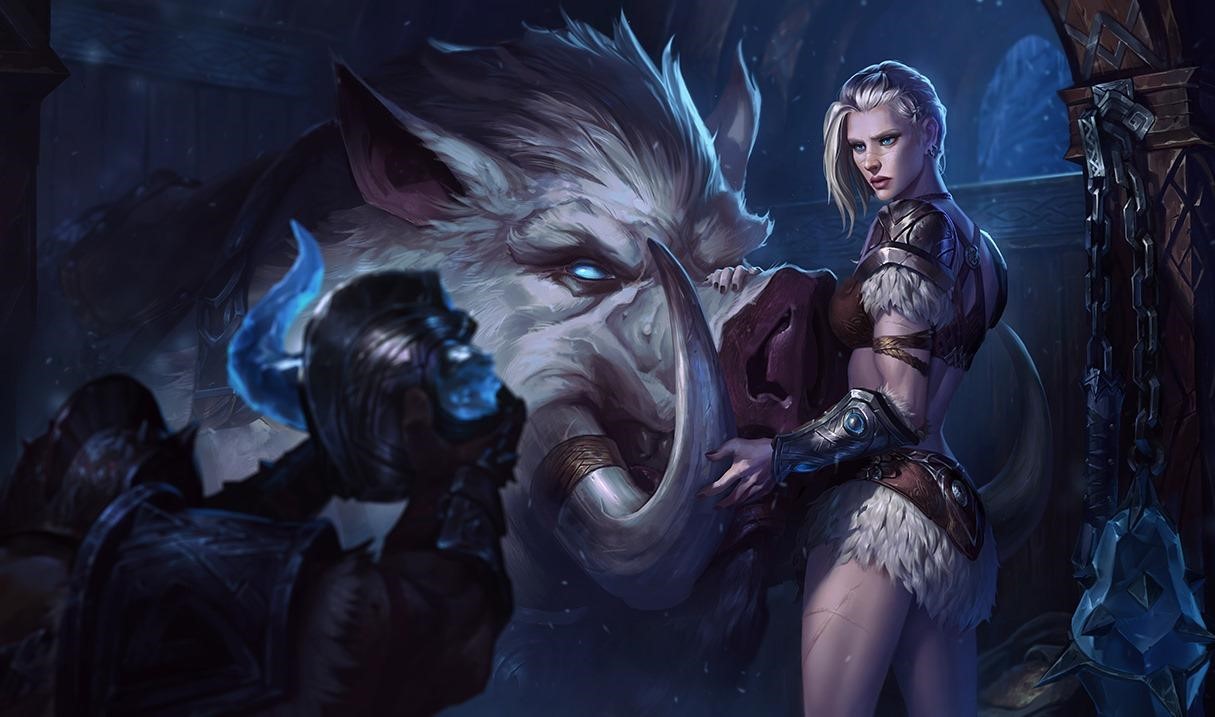 The "Hollywood" Skin
This skin is what Sejuani looked like before her rework. The helmet being presented to her was from her recently deceased mother. This signified that she needed to take her mother's place. I'm glad they reworked her from this skin, her newer stock skin is so much better.
What makes this skin ok:
You can actually tell in this skin that Sejuani is a soldier from the scars on her body
She looks like she has emotions
This is her original skin and it's nice to have her legacy preserved in this way
How to get Traditional Sejuani: This skin is in the Legacy Vault
See Traditional Sejuani in action: 
Battle Ready Sejuani
7. Poro Rider Sejuani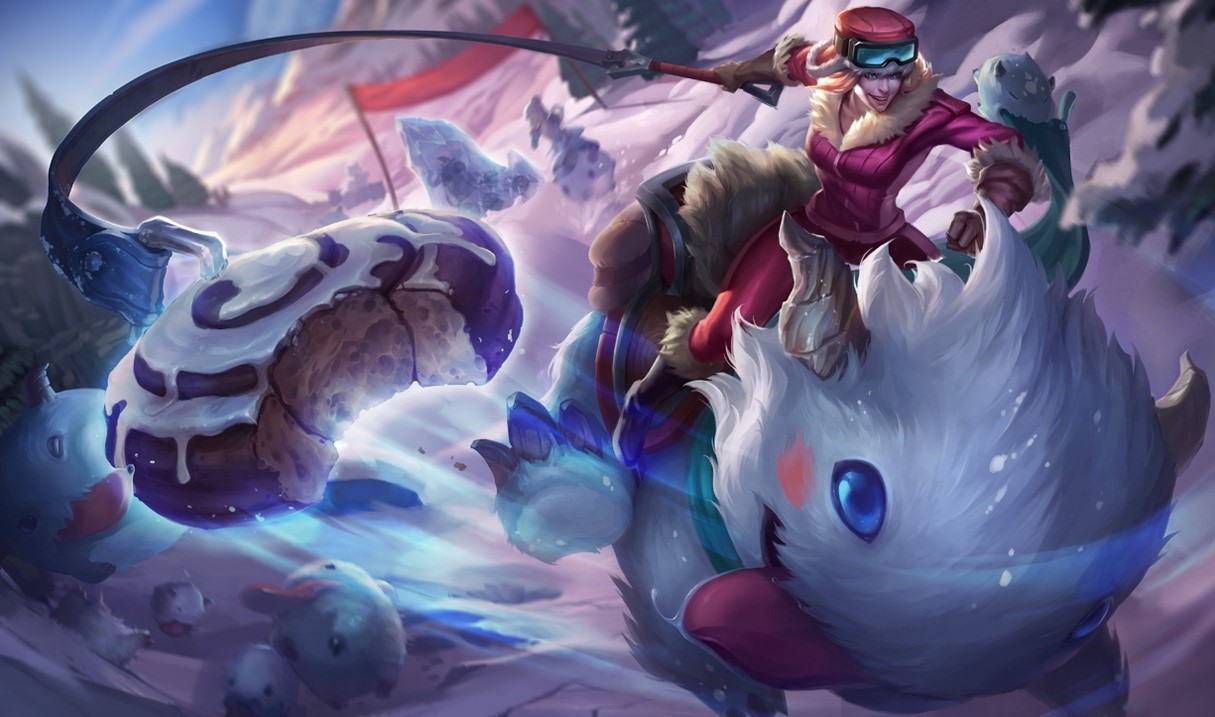 Winter Wonderland LoL
For this skin Riot added a little backstory for it where Sejuani was stranded in the Poro King's enchanted Winterlands. This is a very cute skin. Also, Bristle looks the most adorable in this skin, turning a war pig into a giant poro. Sejuani is also finally dressed for the occasion, she was raised in a winter wonderland after all.
What makes this skin ok:
You get to ride on a poro (which definitely fulfills a fantasy of mine)
Sejuani is using a Poro-Snax instead of her normal ice flail
You get a little back story into the land the poros come from
How to get Poro Rider Sejuani: This skin is in the Legacy Vault
See Poro Rider Sejuani in action: 
Name a Better Duo
6. Firecracker Sejuani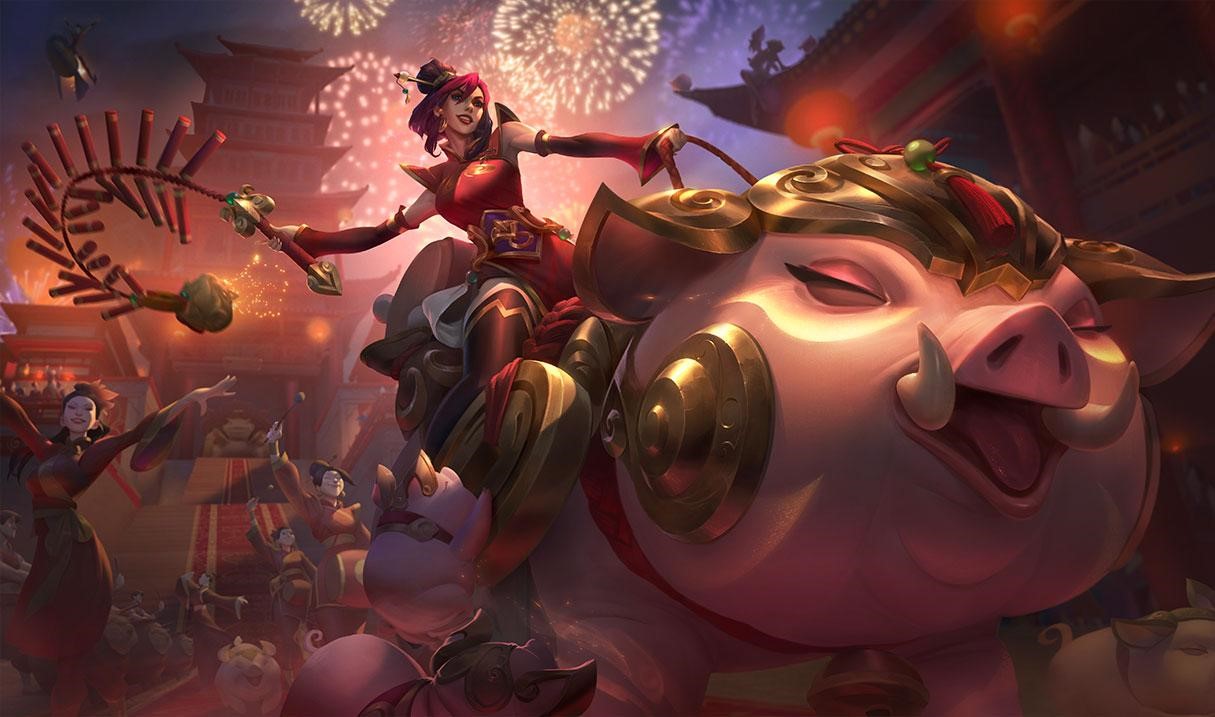 You Think Sejuani and Harley Quinn Share Lineage?
Bristle looks way different now, so does Sejuani for that matter. This skin was released earlier in 2019 to celebrate the Lunar Revel. Her whip is made of firecrackers, how cool is that? It's also strange to see Sejuani with such vibrant red hair. Bristle does not look intimidating at all, he looks slightly less cuddly than when he looks like a poro.
What makes this skin ok:
Bristle has gold armor
Sejuani finally got a great recall animation
Her flail was changed to a decorative, gold image of Bristle's head
How to get Firecracker Sejuani: This skin is in the Legacy Vault
Check out Firecracker Sejuani in action: 
There's No Way We Could've Left This One Out
5. Sabretusk Sejuani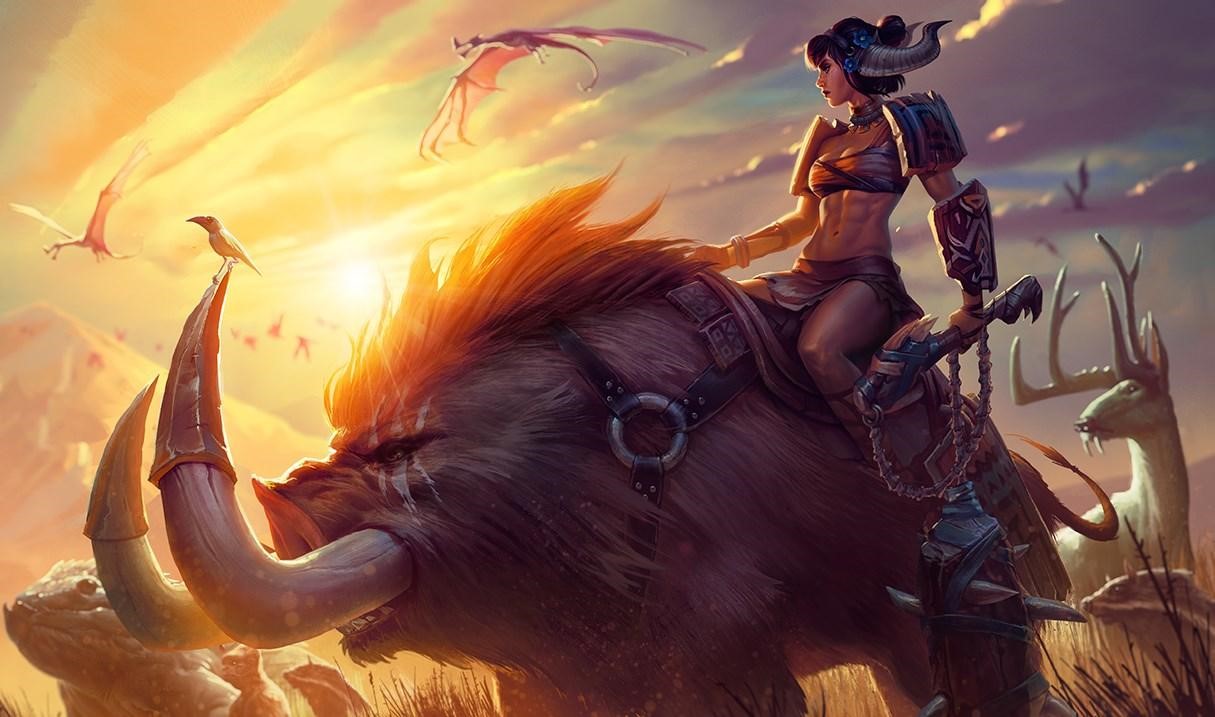 Sejuani Makes a Statement
Who asked for Sejuani with abs? Probably not too many people, but that's what we have anyways. Actually out of all the legacy skins for Sejuani this one is my favorite. Bristle looks epic as a prehistoric hog, and everything about Sejuani's design is an improvement.
What makes this skin surprisingly more than ok:
Bristle has armored tusks and he always looks angry
Sejuani's flail looks like a prehistoric weapon made of bone and rock
Sejuani has dark hair and I think she should dye it that color more often
How to get Sabretusk Sejuani: This skin is in the Legacy Vault
Check out Sabretusk Sejuani in action: 
Sejuani B.C.
4. Beast Hunter Sejuani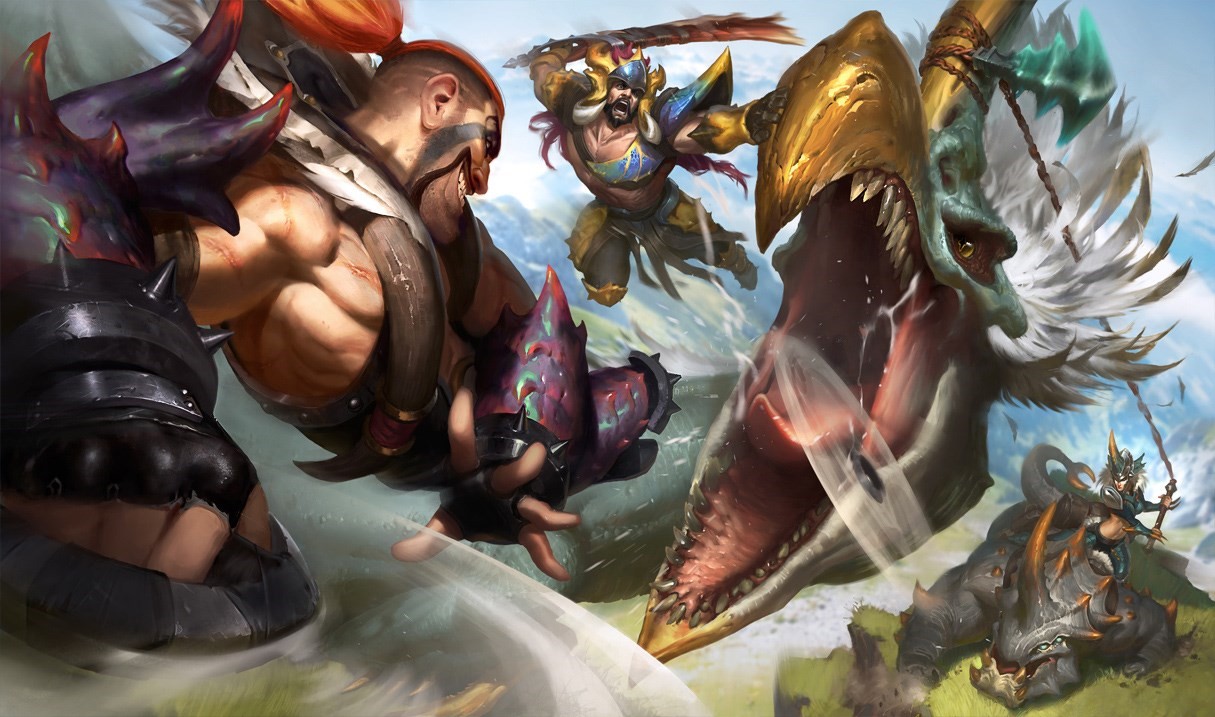 Switching It Up
This skin is for those of you who love Monster Hunter but don't have the actual patience it takes to actually play those games. Bristle is changed into a prehistoric-looking monster and Sejuani is wearing a spiked helmet, likely from her previous encounters with other monsters. Honestly not much is changed with this skin other than Sejuani herself and Bristle. Her flail doesn't have a significantly different from her stock one.
What makes this skin ok:
Great if you want to role play as a character from Monster Hunter stuck in the Rift
Bristle looks really good as a monster, even though he always looks awesome
Sejuani's armor is a nice touch
How to get Beast Hunter Sejuani: You can purchase this skin in the LoL client store for 750RP
See Beast Hunter Sejuani in action: 
Beast Hunter Within a Budget
3. Dawnchaser Sejuani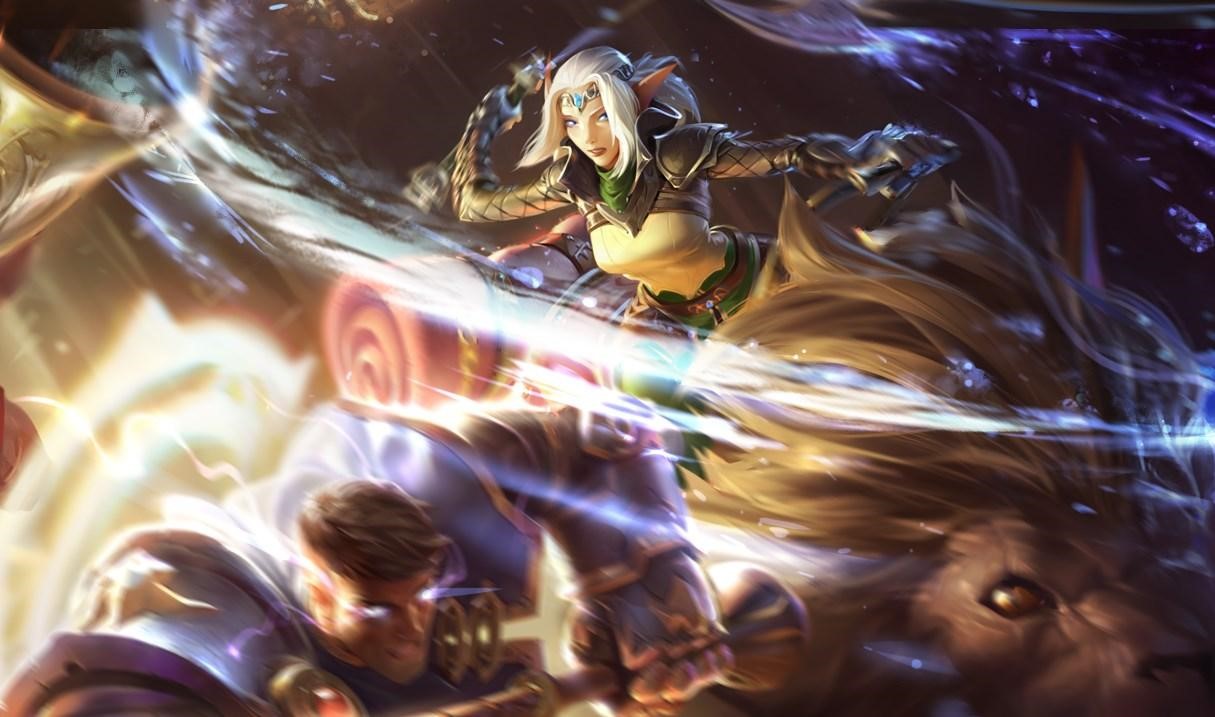 LoL meets Lord of the Rings
This is a neat skin in a weird way. This skin is from the Riftquest series of skins. The looks of Sejuani herself looks a lot like the elf Galadriel from the Lord of the Rings. Bristle, her war pig looks a lot like Aslan from The Chronicles of Narnia. In addition to their looks being shared from classic fantasy stories, there are more references to tabletop RPG. Apparently, this dire lion is the fourth one she's ridden in her current campaign.
What makes this skin cool:
Classic RPG looks
You get to be an elf riding on a massive dire lion
Sejuani's traditional ice flail is changed into a more traditional medieval fail
How to get Dawnchaser Sejuani: You can purchase this skin in the LoL client store for 750RP
See Dawnchaser Sejuani in action: 
Sejuani With a Medieval Flair
2. Darkrider Sejuani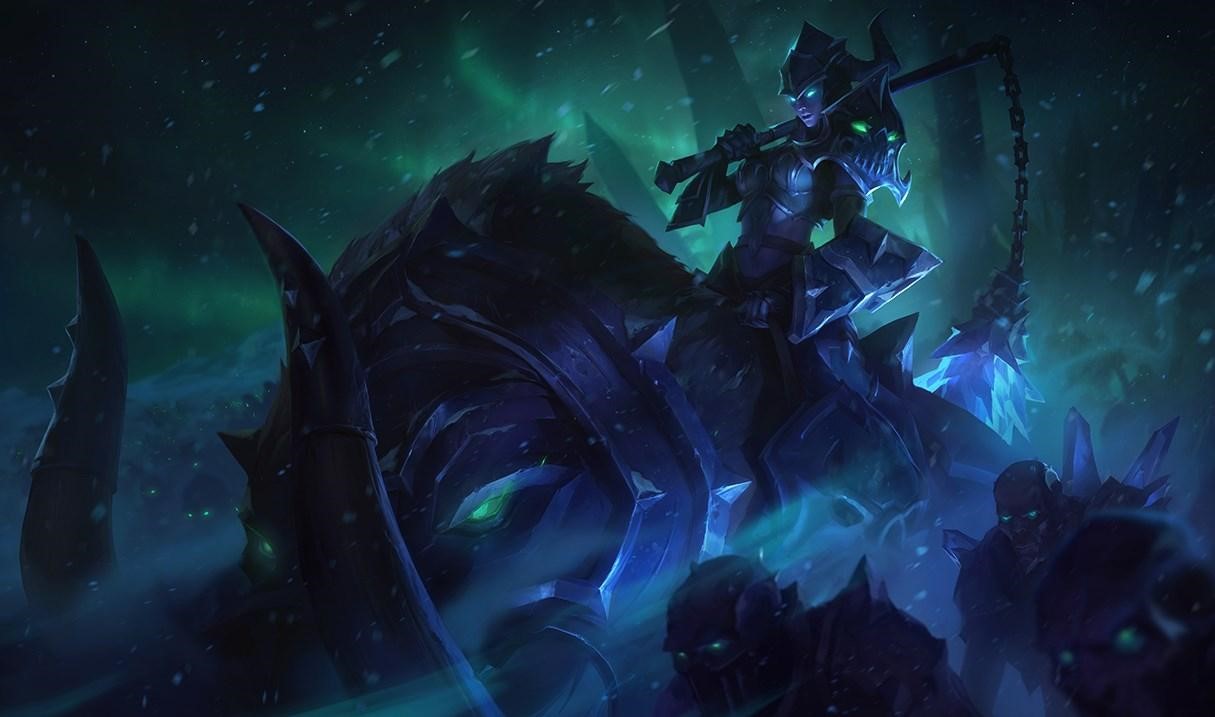 From the Depths
This is what Sejuani would look like if she was from the Shadow Isles. I really like this skin, it's very apparent what they were going for and they did a great job getting that across. Bristle is now what is called a Druvask for this skin, further adding to the great look of this skin. Her flail is now a glowing bunch of spikes that she uses to take down her next foe.
What makes this skin awesome:
Dark themed skin for a character who isn't usually considered that type of character
Bristle has glowing tusks
Sejuani has skulls on her armor
How to get Darkrider Sejuani: You can purchase this skin in the LoL client store for 975RP
See Darkrider Sejuani in action:
The Darker Side
1. Bear Cavalry Sejuani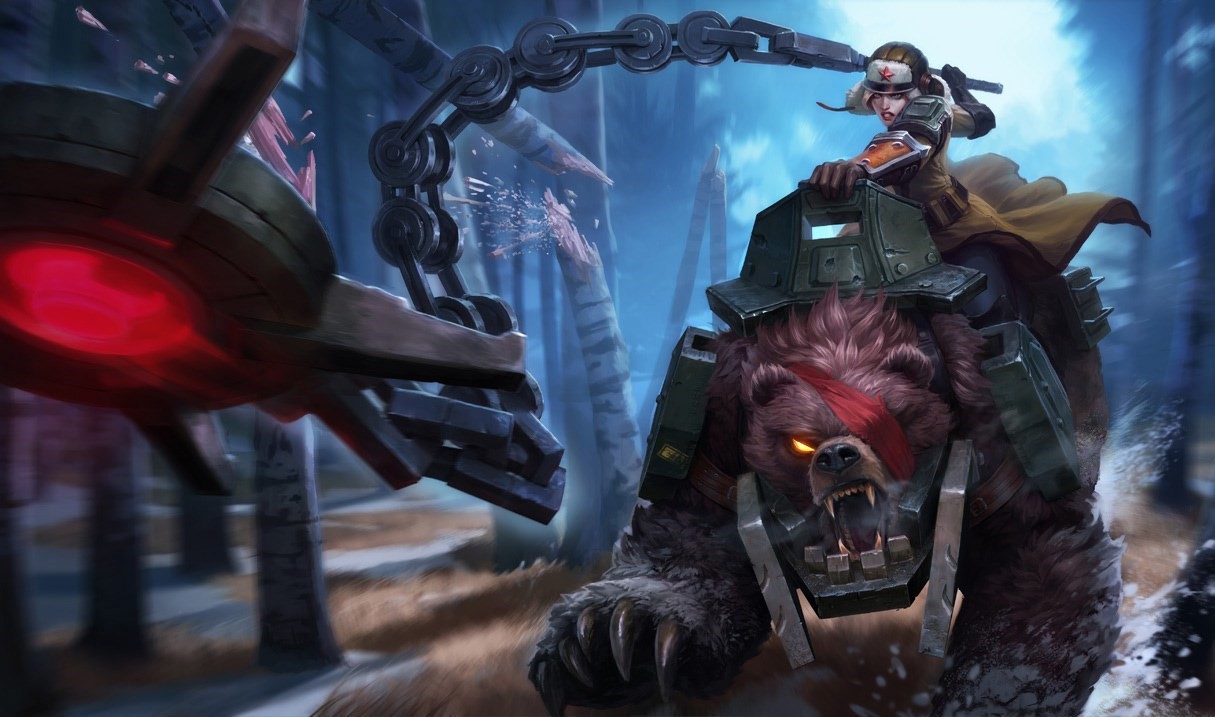 Soviet Sejuani
All you comrades out there knew that this skin had to be the number one on the list. This is the only one of Sejuani's purchasable skins where her passive indicator above her head is changed. In addition to that, they also changed the look of her Permafrost indicator and all of her textures and particle effects. Also, bristle has an IRON JAW! Sejuani's flail looks like a land mine on a chain.
What makes this skin amazing:
In Soviet Runeterra they have bears instead of tanks
Bristle has the most creative look about him out of all the other skins
Complete skin with new looks for all of Sejuani's moves (no more ice)
For her recall animation, Sejuani does the Cossack dance
How to get Bear Cavalry Sejuani: You can purchase this skin in the LoL client store for 1350RP
See Bear Cavalry Sejuani in action: 
Tops the List with Reason 
You May Also Be Interested In:
Image Gallery